Need2Know: New donut shop; coffee shop closing; Pine Cone sold; more

By
Max Efrein
|
mefrein
Originally Published: June 18, 2017 5:59 a.m.
New donut shop in Prescott
A new donut shop called Outlaw Donuts had its soft opening this past week on Tuesday.
This is a new business venture by owner Phyllis George and head chef Isiaha Canady.
The business prides itself on serving the "finest selection of donuts, cinnamon rolls, pies and cookies," according to its Facebook page.
The business is located at 414 W. Goodwin St. in Prescott.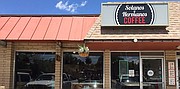 Solanos y Hermanos going out of business
After about 14 months of being open, the Prescott coffee shop Solanos y Hermanos is shuttering.
Owners Joel Clark and David Solano have decided to move their operation out of state for personal reasons, Clark said last week.
Their Prescott location, 520 W. Sheldon St., will officially close on Saturday, June 24. Until that date, they are accepting offers for the café and its equipment.
If no offers for the whole business are accepted by Monday, June 19, they will begin to sell the shop's equipment piece-by-piece, Clark said.
To contact the shop, call 928-460-5868.
Pine Cone HAS SOLD changing hands
Long-time Prescott resident and business owner Henry "Tony" Ebarb has sold his restaurant, The Pine Cone, to a family of successful of restauranteurs.
The sale will finalize Aug. 1, Ebarb said, at which time he will step aside and the new owner, Will Aldaco, will completely take over.
Aldaco and his family have already begun heavily investing in the building to give it a fresh look and feel.

In the meantime, Ebarb will continue to offer music, dancing and drinks every Thursday, Friday and Saturday nights.
Food service has ceased and will not be available until the new owners reopen the kitchen in August.
The new menu will primarily consist of upscale Mexican food, Ebarb said.
Adventure Travel relocateS
Adventure Travel, in business for 34 years in Prescott, has moved.
Previously located at 130 Grove Ave. in Prescott, the travel planning company is now stationed at the Old Firehouse Plaza, 220 W. Goodwin St., Suite 4, in Prescott.
Natural History Institute moving, reorganizing
The Natural History Institute is undergoing some significant changes this summer.
Previously operating through the help of Prescott College, the institute is now in the process of becoming an independent, nonprofit organization and moving from the Prescott College campus, 312 Grove Ave., to a new, larger location at 126 N. Marina St. in Prescott.
Thomas Fleischner, the institute's executive director, said this will allow the institute to grow more effectively and open it up to different streams of funding.
The institute is officially closed until the move is complete. Fleischner anticipates it reopening at its new location sometime in late August.
Aside from special workshops and field studies, all of the institute's programs will continue to be free.
Starting in July, the institute's contact email will change to info@naturalhistoryinstitute.org.
New U-Haul dealer in Spring Valley
Taylor Spring Valley Gas, a 76 gas station, has signed on as a U-Haul neighborhood dealer to serve the Mayer community, according to a news release.
Taylor Gas, 17257 N. Spring Valley Road, will offer U-Haul trucks, towing equipment and support rental items.
To submit items for the Courier's Need2Know, email twieds@prescottaz.com; for legal advertisements, email tbryant@prescottaz.com.
More like this story
SUBMIT FEEDBACK
Click Below to: