Unmanned aircraft: students learn to operate drones
Overhead cameras complete a day's work in minutes
Originally Published: June 17, 2017 6:03 a.m.
The aviation program at Yavapai College, which started in January 2016, offers a degree that prepares students for a career as unmanned aircraft operators.
According to a December 2015 article in Association for Unmanned Vehicle Systems International, this is one of the fastest-growing industries in the country, with an expected 70,000 remote pilots needed by 2020, and with a $82 billion impact on the market by 2025.
Hey, farmer. Tired of walking your fields looking for bugs, lack of nutrients in the soil, too much or too little irrigation? Use an unmanned aircraft systems (UAS) device — AKA drone — to cut inspection time normally spent walking the fields on foot.
Yavapai College students in Matt Mintzmyer's two summer classes — UAS Mapping and Systems, and UAS Applications and Analytics — put classroom knowledge into real world practice June 12. Students sent their drones over an a solar panel field owned by Kevin Larsen in Paulden to check out solar panel function, and an alfalfa field to look at plant health.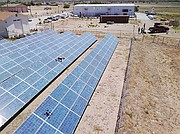 "This partnership with Mr. Larsen is a boon for the UAS students, who are getting practical training in a burgeoning industry, as well as for Mr. Larsen who will benefit from the data that the student drone pilots capture and analyze," Mintzmyer said.
Human inspection of a solar field could take a day or longer, he added, whereas a drone inspection can take minutes. A cursory look at the data revealed "good news, bad news," he said. "Bad because he has issues, good that he now knows."
Students used a FLIR camera (forward-looking infrared) capable of photographing on the infrared spectrum and able to pick up heat emanating from objects; panels that have a bad cell show up glowing hotter than others. Students haven't yet analyzed the results of their inspection, their instructor said, but it appears Larsen may need to inspect a number of specific panels pinpointed by the photos.
There also could be a water issue on the 100-acre alfalfa field, Mintzmyer said. The UAS is preprogrammed, launches by itself to a predetermined altitude, and flies back and forth, taking photos. Those images are uploaded into software that "stitches" them together into high definition 2-D and 3-D pictures that can be manipulated.
A cursory look at the data — 533 photos total overlaid on google.net maps — indicated possible problems with water runoff from higher to lower areas. In some places, it looks like the soil needs more nutrients, he said.
"He (Larsen) could spend $10,000 on fertilizer for the whole property, but maybe he doesn't need that much, or maybe he needs to do something different. Maybe it's a clogged nozzle on the sprayer," Mintzmyer said. "In the end, the goal is to save him money and increase his efficiency."
Torrie Allen, who calls herself a "mature student" at Yavapai College, said she started in the college's aviation program in order to work in the film industry, which requires a license to fly unmanned area vehicles commercially.
"It's turned into more for me with an interest in the field itself — UAVs, and the potential they have in our work and the multiple industries, and the service they can provide," Allen said.
She plans to do some UAV work for movies as she's been in the film industry for years.
"But my direction will probably change to get into research and development as an actual occupation in aerospace, and then have a side business in the agriculture end of things," she said, adding that she thought the hands-on program at Yavapai College was "great" and the experience flying the drones was "fantastic."
"You would have to experience it to appreciate. To see what we saw — in the textbooks we covered everything, but in the field we were able to do it hands on and physically see it as opposed to the books. It was different. It was a 'wow' factor."
Mintzmyer said he's starting to see a lot of unmanned aircraft use in the agricultural industry. "It's definitely a viable business," he added.
Some drones, for instance, can handle a bucket of pesticide and sprayers to eliminate the need for crop dusters, which tend to overspray fields. The UAS would save the farmer money and time, and environmentally, the drones are a lot safer, he said.
For more information on the program, visit www.yc.edu/aviation.
More like this story
SUBMIT FEEDBACK
Click Below to: