Presentation at Phippen delves into Prescott underground

By
Cindy Barks
|
Cindy_Barks
Originally Published: June 15, 2017 8:54 p.m.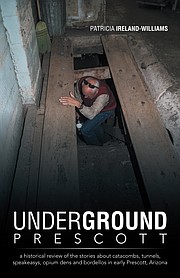 As a young girl, Patricia Ireland-Williams spent summers in Prescott, and she remembers asking her father about the glass bricks that were embedded in downtown sidewalks.
"He told me that is was so the people down there could have light during the day," Ireland-Williams recalled.
That memory stuck with her and increasingly piqued her interest about what was beneath the surface of Prescott's historic downtown.
In 2013, Ireland-Williams published a book, "Underground Prescott – A historical review of the stories about catacombs, tunnels, speakeasies, opium dens and bordellos in early Prescott."
In what Ireland-Williams says will be her last public presentation on the book, she will discuss the topic during a presentation at 1 p.m. Saturday, June 17, at the Phippen Museum, 4701 N. Highway 89.
Over the past four years, Ireland-Williams has done 32 Underground-related presentations, and the public's reception of the book exceeded her expectations.
"It has kept me really busy, and I want a different focus in my life," she said this week, noting that in the future, she would do book presentations only for private groups. In addition, she said, the book will be available only on Amazon.com (except for leftover copies at local establishments).
While researching the book, Ireland-Williams said she talked to many people who had memories of being in underground spaces in downtown Prescott.
Still, she said, most historians discount the myth that the town once had an elaborate network of underground tunnels. "Underground Prescott" comes to no conclusion on that topic, Ireland-Williams said, noting, "I leave it open-ended."
What she did discover, however, was a variety of interesting storage areas and other underground spaces beneath historic downtown businesses. For instance: "I know that there are very spectacular areas underneath The Palace," she said, adding that she also saw underground spaces beneath what was then Coyote Joe's, and the Hotel St. Michael.
While the original news-release information for Saturday's event listed participation by photographer Bobbi Jane Tucker (along with Ireland-Williams), the Phippen has announced that Tucker will be unable to attend.
More like this story
SUBMIT FEEDBACK
Click Below to:
This Week's Circulars
To view money-saving ads...