Front Page Blues Band gains popularity in local music scene

By
Nanci Hutson
|
HutsonNanci
Originally Published: June 15, 2017 9:06 p.m.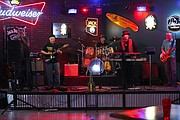 An all-but-forgotten harmonica, a Craigslist ad and an affinity for the blues/classic rock are at the heart of an up-and-coming new local musical group known as the Front Page Blues Band, which is making the rounds to high acclaim at local clubs, saloons and entertainment venues in the Prescott area.
Band founder, promoter and harmonica player Kevin Scheevel admits this group that started playing together last fall has something of a unique story that has combined with some strong musicians; and a decade ago he admits he would never have imagined he would be counted among them.
Scheevel's foray into performing in front of anybody started with the purchase of a harmonica about a decade ago, one he kept under the front seat of his car and would "whistle" on every now and again.
"I had never made music before," Scheevel said.
But he discovered an untapped talent with his harmonica. "The more I learned the nuances of the instrument, the better I got at it," Scheevel said.
One night Scheevel said he was at a sports bar where a band was playing some bluesy rock, and he conjured his nerve to ask to play his harmonica with them. One of the ladies in the band heard him, and invited him to play into the microphone, he said.
"It was a scary thought for someone who was not a performer," Scheevel recalled. "Eventually, I summoned up the courage to do it, and as I think of it I still get goosebumps. With the first note I blew into the microphone, it was like a part of my soul breathed. I was a month shy of my 48th birthday, and I found something there that had been waiting for that moment in time … My soul knew harmonica, of all things."
From there, Scheevel started contemplating his own band. He advertised on Craigslist for some musicians, and started up the first rendition of the band in late 2015 to August 2016. Then the band took a hiatus, metamorphosing into the new group in October. The band's particular appeal is to more mature audiences who appreciate different varieties of the blues and the classic rock and R&B of their eras, Scheevel said. They are often booked at venues where they can play at times intended to accommodate those audiences.
"You can get your blues on, and be home snoring by 10. That's so totally us. It's a niche market that has been ignored," joked Scheevel of his band's performances.
On Saturday night, June 17, the Front Page Blues Band will perform at the Eagles Nest Lounge at the Prescott Resort at 7 p.m. No tickets are required for their gig, which will likely last three or four hours; gratuities are always welcome.
Anyone who attends can expect to see a "high-energy, good quality show," that is blues-based with a mix of upbeat blues, swing blues, some slower blues with some classic rock, even R&B, tossed into the mix, Scheevel said.
"We do some interesting stuff," Scheevel said of the band's repertoire that includes a Ray Charles number as well as other covers from such artists as Stevie Ray Vaughn, B.B. King, and the Allman Brothers.
The band's front man and keyboard player, Freddie Freeman, is a Los Angeles musician who has been in the business since the 1960s and moved to Prescott a couple years ago. He connected with some of the band members at the Bird Cage Saloon where he happened to be singing with a friend. After a jam session, Scheevel extended an invitation to Freeman and he immediately agreed.
"It's been fantastic," Freeman said.
When he first moved to the area, Freeman said he wasn't connected with the local music scene. But he quickly found some like-minded folks, including Scheevel, and it's been a treat to do what he loves most.
"It's really wonderful playing here," Freeman said. "We do such a nice variety; good dance material. I think our show is very good … People seem to like us a lot."
Scheevel concurs.
"It's a blast. That's why we do it," Scheevel said. "It's certainly not about the money. We're all about the music."
The band is on Facebook; reach them by calling 928-308-8724.
More like this story
SUBMIT FEEDBACK
Click Below to: