Vigil for Christian Pearson Saturday night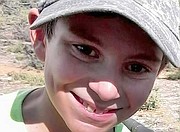 The Chino Valley community has drawn together over the death of 10-year-old Christian Pearson, who died on Sunday. Four residents are coordinating a candlelight vigil from 7 to 9 p.m. Saturday, June 17, at the town's Memory Park, Palomino Road and Road 1 West.
Naomi Barnett, one of the coordinators, said the circumstances of the boy's death have spread like wildfire through the community, and people are wanting to gather to share their memories.
Christian died in Phoenix Children's Hospital after being taken off life support Sunday evening, June 11, and his organs have been donated. Police had responded to a 911 call Thursday, June 8, and found him not breathing, and with burns and bruises, injuries allegedly inflicted that day. His mother, Juliana Moreno, 34, and her boyfriend, Daniel Terry, 36, were arrested on attempted first-degree murder charges, which have been upgraded to first-degree murder charges.
Barnett said plans for the vigil include a pastor leading off with a prayer. She and some of Christian's teachers will share their memories. Others also are invited to participate at an open mic. Several people plan to sing songs before the lighting of candles.
"At dark, we will light our candles at the same time, lighting them in solidarity for not forgetting," Barnett said. "For me, the reason is, he was really close to me and my family. I don't want his death to just be a headline today. He deserves to be remembered."
Barnett's son played with Christian who was often at their home. She said her son is overwhelmed with what has happened and she will take him to a counselor on Monday that the school district is providing for students.
"He truly was one of the kindest, most considerate, people that my son was friends with," Barnett said. "It's unspeakable. I think even if you did not know Christian, it's traumatic. It affects you. It has affected the community."
Barnett said Christian's family gave permission to hold the vigil, but she wasn't sure if any family members would be present.
Chino Valley Police Lt. Vince Schaan is asking anyone who attended a yard sale at the residence in the 1200 block of Poco Lane to call CVPD at 928-636-4223.
Related Stories
More like this story
SUBMIT FEEDBACK
Click Below to: