Originally Published: June 14, 2017 6:02 a.m.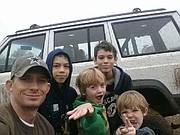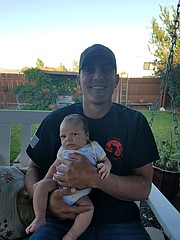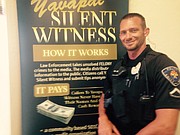 Over the generations you can be sure that many people have thought things similar to this quote, "The greatest gift I ever had, came from God, I call him Dad," (unknown)
This Father's Day dads will be celebrated all across our country. The following are not only dads, but First Responders too.
Steven Angel is the proud father of four sons, Anthony, Ayron, Ashton, and Auston. He has also been a 12-year veteran police officer in various places in Arizona and now in Chino Valley.
"My wife Kim and I moved our family here from Havasu because of the weather. It was so hot there it was hard to be able to do things with my sons, as we love camping, fishing, hunting, off-roading, building things,and anything to be outside," Angel said.
Angel is a motorcycle officer, and has been since his sons were born.
"My sons love my motorcycle. We try to be involved with the kids in the schools and at church, really any of their activities we can. When Del Rio had their Field Day I took my bike over so all the kids could see it. They climbed all over it, blasted the siren etc. and they all had a great time," he added.
Angel's schedule changes every three months, which sometimes makes it hard to do things with his sons.
"When my schedule changes we have to be creative. But, I will sacrifice my time to be with my sons," said Angel.
Angel and his wife love children so much, that they also do foster care when the states calls them.
"My advice as a parent, and a police officer is to be involved with your kids, and be nosy, intrude in your kids life, it's for their benefit," Angel said.
"To me one of the neatest things of being a father is watching the boys grow up to be self sufficient adults, and knowing I created that and influenced them by modeling Christian values, that we were brought up with."
John Apolinar has been a Chino Valley firefighter for five years, three as a full time and two as resource. Apolinar is also a brand-new father. He and his wife Erica have a 1-month-old son named Beau.
Apolinar is a native Arizonan, and proudly states that his grandfather is a Yaqui Indian so his ancestors and been in Arizona for hundreds of years.
"I grew up in the Bagdad Fire Department as my father was a volunteer firefighter for 13 years. I enjoy this work because I like helping people and fixing things. Firefighting is very dynamic because it is always changing and there are lot of facets to the job, besides fighting fires, and we do everything from medical calls, public assists, accidents, and teaching classes," said Apolinar.
"I am a Fire Pal for the elementary schools in Chino Valley and I go and teach the kids lots of safety etiquette like stop, drop, and roll, cooking safety, and how to be a good baby sitter. My advice to people during this fire season is to be aware of what you are doing when driving, such as a chain dragging behind your vehicle can cause a spark and start fires along the highways, and if you have to pull over, try not to park on a dry, grassy area to help prevent fires," he explained.
Apolinar is also enjoying his new role as a father.
"Being a new father is the best thing I've ever done. I love spending time with Beau, and having someone dependent on me, even changing diapers," he smiled.
"Giving your child a lot of love and attention is the most important thing to me. I'm hoping to share my love of sports and the outdoors with him through the years."
More like this story
SUBMIT FEEDBACK
Click Below to:
This Week's Circulars
To view money-saving ads...