Chino Mudder 2017: Bigger, better mud fest has 22 obstacles

Originally Published: June 14, 2017 6:01 a.m.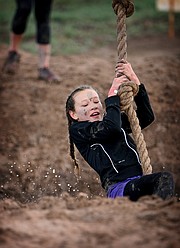 The Chino Mudder, a 5K (3.1 mile) obstacle course over cross-country terrain, is for the physically tough who can make their way through, over and under 22 military-like impediments. For the average participant, the course takes an hour to 1.5 hours to complete, not counting the shower afterward to rinse off mud.
Actually, anyone of any fitness level can participate. Children 5 to 12 years old may enter if running with a parent. Youth 13 and older may run alone with the signed consent of his/her parent.
The Chino Valley Parks and Recreation Advisory Board is busy planning, prepping and primping the course located at Old Home Manor for the event scheduled for Aug. 26. On June 6, advisory members discussed maintenance work and marketing plans.
Producing mud pits takes a lot of water, and the committee is looking at putting in a bigger pump than the one used this past year, and perhaps larger-diameter pipes.
Workers will be weeding, repairing PVC pipe, reshaping berms, tightening cables, digging deeper ditches and conducting safety checks.
Celia van der Molen, lead recreation worker, is confirming which food trucks will be present. Members discussed having beer available, and decided for that to happen after the last wave comes through the course, that additional entertainment, such as lunch-type food and live music, would be necessary to attract an audience. They decided to concentrate on creating a quality event this year and plan next year for a possible "After-Mudder Party."
Cold, wet weather conditions in May last year led to many participants leaving immediately after finishing the event. Members are hoping the late-August timing will be more conducive to enjoying the fun.
Two new obstacles will appear on the course, and several existing obstacles will be modified, said Eric Smith, finance committee member.
Some of the obstacle names are descriptive and give one an idea of what can be expected: Commando Crawl, Texas Two-Step, Web of Lies, Walk the Plank, Tunnel Vision, and George of the Jungle Swing.
Others allude to their structure: Humpty Dumpty, of course, involves a wall, plus foot holds and a hanging rope. Road Kill produces a plethora of tires lined up over a pit to crawl across. LOL contains a "funny" surprise trench somewhere that won't be visible to runners.
This past year, Arizona Public Service was able to contribute $5,000, Smith said. This year, however, the funds will be split amongst other events, so the Mudder will not receive as much.
Sponsorship packets are available for organizations and businesses interested in sponsoring one of the obstacles, with different levels that provide space on the Mudder T-shirt, banners, posters and website. Donations of in-kind goods, services, or volunteers also are sought.
It's not too late to start thinking about a costume. The top three costumes (individual or team) will be awarded ribbons. The website, chinomudder.com, advises, "Just make sure the costume does not impair your vision, prevent you from breathing normally, or can potentially make you trip or get snagged on an obstacle. Nudity of any kind is prohibited."
The event takes place in several waves at different time frames: Competitive Wave at 8 a.m., First Open Wave at 8:30 a.m., Family Wave at 9 a.m., Second Open Wave at 9:30 a.m., Third Wave at 10 a.m., Family Wave at 10:30 a.m., Costume Wave at 11 a.m., Police and Fire Fighter Competition Wave at 11:30 a.m., and the Fourth and Final Open Wave at noon.
The Chino Mudder is a fundraiser to generate money for recreation programs and facilities for such things as additional shade structures at the parks, playground rehabilitation and new equipment, the outdoor library expansion, and trail improvements and signage.
Get added to the Chino Mudder email blast by contacting cvandermolen@chinoaz.net or 928-636-9780.
SUBMIT FEEDBACK
Click Below to:
More like this story