Originally Published: June 12, 2017 6:01 a.m.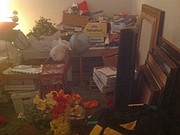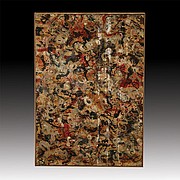 SCOTTSDALE, Ariz. – A painting discovered in a garage in Sun City, Arizona is believed to be an original Jackson Pollock worth $10 to $15 million.
The rare, lost Jackson Pollock painting will go up for auction on Tuesday, June 20 at J. Levine Auction & Appraisal after the Scottsdale-based auction house spent nearly 18 months and tens of thousands of dollars researching and authenticating the forensics and ownership history.
According to a news release from J. Levine Auction & Appraisal, the abstract, untitled gouache painting measures 22 ½ x 32 inches with a forensic report stating, among other findings, that "the dating of the painting to the mid-twentieth century is well established as no pigments or binding media introduced in the late 1950s and 1960s have been detected."
"Interestingly, this estate first came to our attention when we were contacted to take a look at a signed 1992 L.A. Lakers poster," said Josh Levine, owner and CEO of J. Levine Auction & Appraisal. "We ended up signing a contract to auction the contents of the estate, and that's when we found many of the paintings stored away."
Since January 2016, Josh Levine has been on a quest to authenticate the unsigned Pollock.
Describing his initial research as "maddening," Levine hired a private investigative team and a forensic expert to help him put the pieces of the puzzle together.
"Based on their work and findings, I believe this painting was one of Pollock's missing gouaches in his catalogue raisonné or from the period of 1945 to 1949," Levine said.
Levine is well aware that scholars debate about the authenticity of Pollock paintings. The PollockKrasner Foundation does not authenticate paintings, and there have been many high-profile disputes in the past regarding whether or not a painting was an original Pollock.
"The forensic report really just reaffirmed what I already believed to be true..." Levine said. "I've spent hundreds of hours researching how this Pollock could end up here in Arizona, and I am confident that this is an original Pollock."
Online bidding is available now, with live bidding slated to begin at 11 a.m. PT on June 20. A free, public preview will take place on Monday, June 19 from 4 p.m. to 7 p.m. The auction house is located at 10345 N. Scottsdale Rd., in Scottsdale.
For more information and to read more about the painting's provenance, visit www.jlevines.com/pollock or call (480) 496-2212.
More like this story
SUBMIT FEEDBACK
Click Below to:
This Week's Circulars
To view money-saving ads...