10-year-old victim of alleged child abuse dies
Originally Published: June 12, 2017 7:43 a.m.
Updated as of Monday, June 12, 2017 10:19 PM
Candlelight vigil
What: A community vigil for Christian Pearson, a 10-year-old Chino Valley boy who died on Sunday.
When: 7 p.m., Saturday, June 17
Where: Memory Park, Palomino Road and Road 1 West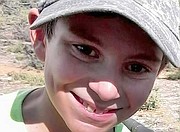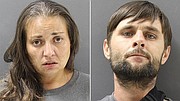 Christian Pearson, the 10-year-old boy whom police found not breathing, with burns and bruises covering his body last week, was taken off life support and died Sunday night, June 11, about 10:30 p.m., said Lt. Vince Schaan of the Chino Valley Police Department.
Police requested the charges against the two people Christian was living with, Juliana Moreno, 34, his mother, and Daniel Terry 36, her boyfriend, be upgraded. The couple was originally charged with attempted first-degree murder, child abuse, and aggravated assault. Schaan said the both Moreno and Terry be charged with first-degree murder.
The boy's injuries were discovered when authorities responded to a 911 call at about 2:45 p.m. on Thursday, June 8, to a home in the 1200 block of Poco Lane, Schaan said. Moreno and Terry were hosting a yard sale that day.
The boy was found with second- and third-degree burns as well as bruising to the back, torso, extremities, neck and head. He was flown to Phoenix Children's Hospital.
"Evidence suggests these injures were inflicted upon the child at the residence, while he was bound and restrained and unable to protect himself or flee," Schaan said.
The boy had visible burns when he was found on the living room floor, but he apparently suffered his injuries in his bedroom, Schaan said.
Though the injuries apparently were inflicted the same day he was found, he also had bruises indicating prior abuse, Schaan said. Terry was not the 10-year-old boy's father, but Terry and Moreno had a young daughter who also was in the home, Schaan said.
The girl, about 18 months old, was turned over to the state Department of Child Services, Schaan said.
Christian was an organ donor and before doctors took him off life support on Sunday night they harvested organs.
Moreno and Terry are being held at the Camp Verde jail on $2 million bonds each.
Schaan is asking anyone who attended a yard sale at the residence on June 8 to call the Chino Valley Police at 928-636-4223 and request to speak to a detective. He added that all cards, stuffed animals, and other gifts delivered to CVPD will be given to Christian's biological father.
Related Stories
More like this story
SUBMIT FEEDBACK
Click Below to: