Foot chase nets arrest, numerous drug charges
Originally Published: June 9, 2017 6 a.m.
Detectives from the multi-agency Partners Against Narcotic Trafficking unit located a man they were looking for on drug charges in Cottonwood on June 6 and chased him as he ran, finally tackling him in the street, Sheriff's spokesman Dwight D'Evelyn said.
PANT detectives spotted Edward Kaplan, 48, as he left a restaurant in the 500 block of North Main Street.
When Kaplan saw them, he ran, dodging traffic as he crossed Main Street.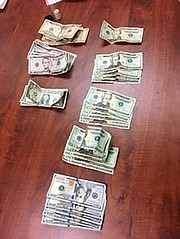 Other detectives drove up as Kaplan was taken down in the street, D'Evelyn said.
A struggle ensued and Kaplan resisted arrest, D'Evelyn said, but he was finally taken into custody.
A search of a backpack Kaplan was carrying turned up a loaded .45 caliber handgun with numerous rounds; nearly three-quarters of a pound of methamphetamine, with a street value of $25,600; nine grams of brown "cinnamon" heroin worth $900; six grams of black tar heroin, worth $600; a digital scale with residue; empty plastic bindle baggies; $935 in cash; and a hypodermic syringe, D'Evelyn said.
Kaplan had active felony and misdemeanor warrants for his arrest from Yavapai County Superior Court and the Cottonwood Municipal Court.
Kaplan was booked into the Camp Verde jail on charges of possession of dangerous drugs, possession of dangerous drugs for sale, possession of dangerous drugs for sale –conspiracy to commit, possession of narcotic drugs, possession of narcotic drugs for sale, two counts of possession of drug paraphernalia, money laundering, participating in a criminal syndicate, two counts of misconduct involving weapons, resisting arrest and the active arrest warrants.
SUBMIT FEEDBACK
Click Below to: