Documentaries, dramas, adventures abound at Prescott Film Festival

Originally Published: June 8, 2017 8:39 p.m.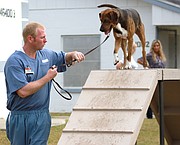 In June 2016, members of the Prescott Film Festival board and PFF Executive Director Helen Stephenson met to debrief the 7th annual festival event. They talk about what went right and what could be bettered for next year.
"Our board is truly a 'working board,' and we have the festival front-of-mind year round," Stephenson said.
The 8th annual PFF takes place Friday, June 9, through Saturday, June 17, on the Prescott campus of Yavapai College. General admission tickets are $12 per feature film (includes a short), students $6, and passes are 10-pack for $100, All Film Pass for $160, and a Platinum Pass for $275, which includes reserved seats for 18 films, Cabaret Party, wine tasting, gourmet dinner, and VIP Director's Loft.
Four special events begin opening night, June 9, with an Arizona premiere on swing dance, "Alive and Kicking," at 6:30 p.m., followed by an opportunity to dance to the live music by the Yavapai College Jazz Bands with demonstrations by Prescott's Flying Nest Studio and the NAU Swing-Jacks. Tickets $12.
Saturday, June 10, at 5 p.m. a three-course meal by Senses Pop-Up Dinners, including a glass of wine, precedes the musical, "That Day We Sang." Tickets are $75.
Friday, June 16, is the Que Syrah, Syrah wine tasting event beginning at 5 p.m. The film, a modern fairytale, "This Beautiful Fantastic," follows. Tickets are $35.
The closing film, "The Tiger Hunter," and Cabaret Party begin at 6:30 on Saturday, June 17, with the party onstage afterward sponsored by El Gato Azul, at no extra charge.
Films with animals are popular with Prescott-area audiences, and this year offers several. "Prison Dogs," June 16, is about a dog-training program for prison inmates and veterans; the accompanying short film, "Ace and the Desert Dog," is about a backpacker and his blue heeler.
"Dyna Does Dressage," June 17, documents the story of the first mule to compete in dressage at the national level; the short film "Sonic Sea" shows the impact of ocean noise on whales and other marine life.
On June 10, "Floating Horses: The Life of Casey Tibbs," is about a rodeo cowboy in the early 1900s; the short film is about a horse whisperer who works with inmates, "Wild Horses and Wild Men." Stephenson said there will be lots of local interest as JC Trujillo, general manager of Prescott Frontier Days, knew Casey Tibbs. "The filmmaker and several of the folks interviewed in the documentary are scheduled to attend," she said.
All 12 workshops are free as well as the student short film program that begins at 12:15 p.m. on Sunday, June 11. These shorts run from one to eight minutes in length. Workshops include topics on funding a film, the movie rating system, sounds restoration for classic movies, connecting clients to production, creating dialogue, stop action animation, and reality TV.
Prescott's survival instructor, Cody Lundin, gives the "Reality of Reality TV" workshop at 4 p.m. on Tuesday, June 13. He will speak about the decline in factually-based survival programs.
Planning a festival means every fall, festival board members start looking for next year's movies by reading industry magazines and researching films currently in production. A training for the volunteer movie reviewers takes place in December.
"Looking for films, watching them critically and reviewing them, is the largest part of the task, and where we have our largest number of volunteers," Stephenson said. Writing grants, contacting and scheduling workshop leaders, and reaching out to students takes many people working many hours.
For more information, a full schedule and tickets sales, visit prescottfilmfestival.com, or call 928-458-7209.
SUBMIT FEEDBACK
Click Below to:
More like this story