Prescott High JROTC leader honored for role in shaping cadets
Says he's proud to 'pass on' what was given to him

By
Nanci Hutson
|
HutsonNanci
Originally Published: June 6, 2017 6:01 a.m.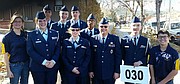 At age 11, Bill DeKemper was orphaned, losing his parents in an airplane crash.
The Kansas boy and his four siblings were sent to live with relatives; DeKemper landed in Tucson, Arizona.
In unfamiliar surroundings, DeKemper was lucky enough to find a close friend in his Spanish class; a boy from a Mexican family eager to learn the language of his heritage. For the next three years, DeKemper and his friend, Jim Valenzuela, were inseparable.
Yet it was his friend's father, Diego, a no-nonsense Mexican rancher who molded him into the man he is today, said the now-retired United States Air Force lieutenant colonel who heads up the two-instructor, nationally-distinguished Prescott High School JROTC program.
"He had a huge impact on my life," DeKemper said of the often unappreciated guidance that came from such things as learning how to rope cattle. "And I never got to say, 'Thank you.' "
So today, DeKemper said, he strives to honor that gift of mentorship through his outreach to adolescents who need someone to respect and inspire them to be the best they can be.
For the last decade, the 21-year military officer has been a fixture at Prescott High School, now serving as the JROTC department chairman who works with program founder/instructor Denny Peeples, a retired USAF colonel, in the four-year elective course program that includes instruction in space flight, astronomy, history and life skills.
Before starting his second career as a high school teacher, DeKemper worked in national security affairs and intelligence all over the world, including in Russia and two tours in Korea. He taught a JROTC program at Indiana University and was an instructor at the Air Force Academy in Colorado Springs. He earned a bachelor's degree in history at Arizona State University and then two master's degrees in administration and national security affairs. He later earned his Arizona education teaching credentials.
"As a teenager, I didn't have a lot of guidance getting ready for life. In this job, I get to do that; I get to give what I didn't get early in my life," DeKemper said of the program that annually serves between 130 and 150 students who may or may not be interested in a military career. "We're really here to help kids get ready for life."
And he's pretty good at it, according to colleagues, students and the national USAF JROTC program.
"I am pleased to announce that our very own, Lt. Col. (retired) Bill DeKemper, has been selected for a national USAF JROTC Outstanding Instructor award," Peeples wrote in a school announcement just prior to the end of the school year last month.
"I nominated him to compete in a national competition where he has been recognized as being in the top 5 percent of the 2,000-plus instructors that teach in 890-plus AFJROTC units around the world," Peeples wrote. "With Prescott JROTC recently winning its 11th straight USAF National Distinguished Unit award recently, Bill is certainly deserving."
Not one to seek out accolades, DeKemper said he is "very gratified" by the honor for a job he counts as one of the best choices he ever made.
His wife, Sandy, is a preschool teacher at the district's Discovery Gardens program; the couple have two adult daughters, Dana and Jamie, and two grandsons, Benjamin and Braden.
"I love working with kids," DeKemper said. "I think the biggest thing is to build a rapport. When you treat kids with respect, they're going to return the respect."
Class of 2017 graduate David Fausey, nominated this year as one of the Prescott Education Foundation's Rising Stars, considers DeKemper a true inspiration. He honored DeKemper as a top teacher at the Rising Stars banquet in April.
"It's really amazing the amount of support he gave to me, and to all the cadets," said Fausey, who was in the JROTC program all four of his high school years.
Whether the class was doing an academic exercise, community service, or participating in an extracurricular activity, Fausey said DeKemper was one to "point us in the right direction, but ultimately, it was our show."
"And to me, that's a really good way of teaching. We're not just being told what to do, but we're also not just being thrown into the pool not knowing how to swim."
More like this story
SUBMIT FEEDBACK
Click Below to: