Prescott parties in the pines
Money raised goes to Prescott Unified School District Education Fund

Originally Published: June 5, 2017 6:01 a.m.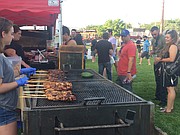 Hanging out at her second Party in the Pines, Yasmin Wood said she came back to the event because she really liked it last year. It was just as fun this year, Wood said.
"I really liked that first band and the weather is actually perfect, the grass is great, just being able to try a bunch of different beers from different manufacturers is great," she said, mentioning that her favorite beer of the night at that moment was The Beer Research Institute's Lolli Blonde. "I kind of like the smoother ones, not as strong. But I'm still trying a lot of them all over the place."
The second year for Party in the Pines at Prescott Mile High Middle School, and the seventh year for the event itself, it was the first year the event featured a VIP tent, where Phyllis Brown and Kathleen Andres were spending their time. The two of them were enjoying the special perks the VIP tent had, Brown said, stating they'd been playing cornhole and she'd been dancing.
Andres said she really enjoys Party in the Pines, calling a good opportunity to raise money and a lot of fun.
"All ages are here," she said. "It's a very good fundraiser and activity for the community."
The free tacos were also a great perk of the VIP tent, said Will Devito.
This year, Party in the Pines raised money for the Prescott Unified School District Education Fund and while the final tally of people and money raised wasn't immediately available, the goal was to get 2,500 to 3,000 people and match the $10,000 donation made last year and hopefully exceed that, said Prescott Area Young Professionals (PAYP) President Ariana Bennett.
Further, Party in the Pines is a great way for the community to get together and celebrate summer as well as give back to the community, Bennett said.

"It's really nice to be able to get it out in the public that we're here," she said. "We're making an impact and we're having fun while we do it."
SUBMIT FEEDBACK
Click Below to: