Naked man caught on video trying to break into Md. home
AP and Staff Report
Originally Published: June 4, 2017 6:02 a.m.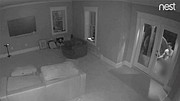 Police are asking for help identifying a naked man who they say was caught on surveillance video trying to break into a home in Bethesda, Maryland a few weeks ago.
On May 17 a father of two, asleep in his home next to his wife, was awakened by a cellphone alert from his outdoor security system.
The homeowner, who asked not to be identified, checked video from a security camera on the front of the house.
"I couldn't believe it," the homeowner said. "I thought I was maybe having a bad dream, but there was a naked man wandering through my yard."
The naked man was unsuccessfully trying to get into the home.
On Friday, Montgomery County police released video footage of the man walking in the front yard and around the house, and footage taken from inside the home showing the man attempting to break in through a glass door. The man can be seen at the back door until a motion sensor light turns on and he runs away.
Detectives said they hope someone will recognize the naked man and call with information.
The father expressed concerned that if the man was willing to wander around his yard naked, he might have been willing to quietly wander around in the house and get to his children's bedrooms.
"We don't know what his intention was," he said. "Whether he was some kind of sexual predator, or whether he was a burglar. Most burglars that I've heard of don't show up naked."
But the homeowner pointed out one comforting observation: "We know he wasn't armed."
Montgomery County police are asking anyone with information about the case to call 240-773-6710, or the Crime Solvers line at 866-411-TIPS (8477).
Crime Solvers is offering a reward of up to $10,000 for information leading to an arrest.
More like this story
SUBMIT FEEDBACK
Click Below to: