Battery powered homes may be future of homebuilding
Local homebuilder hopes to address electric grid issue with innovation

By
Max Efrein
|
mefrein
Originally Published: June 4, 2017 6 a.m.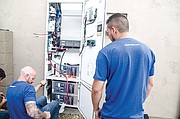 Many utility companies throughout the Southwest are having to address limitations with the electrical grid as renewable energies grow in popularity.
All major utilities in the western U.S. are interconnected. They are what is called a "balancing authority."
This equates to one big interconnected pool of power and every balancing authority is responsible to maintain frequency at 60 Hertz so as not to disrupt the flow of energy.
As use of solar energy has spiked in recent years, a problem in maintaining this frequency has arisen. Utilities struggling most are ones such as Arizona Public Service (APS), which is considered a high penetration solar utility — meaning it has an unusually large amount of solar in its system from residential and commercial rooftop solar.
"High penetration solar actually creates power quality problems on the grid," said Marc Romito, director of APS Customer Technology.
"It's a flood of daytime generation," he said. "We've had many occasions where too much solar on one circuit will actually cause the rest of the solar on that circuit to turn off."
To deal with this issue, APS has begun to move toward using what are called "peaking plants." These power plants usually run on natural gas and can be turned on and off very quickly to respond to the intermittency of energy produced by solar.
While these plants help manage the issue, it will be advancements in technology — and creativity in how those advancements are used — that solve the matter, Romito said.
Dave Everson, owner of Mandalay Homes, an Arizona homebuilder, understands the electrical grid issue and has been looking at ways to address it with innovation.
For the past three years, Everson has been building discovery homes. These annual creations are fitted with applied technology or any advancements in the homebuilding industry to create homes unlike any already on the market.
"It's like an all things considered," Everson said. "Energy, air quality, water conservation; this home literally has everything we can think of thrown into it."
Each discovery home has takeaways. Those that seem viable and cost effective are then applied to every Mandalay home from that point forward.
His newest, located in Prescott's Granite Dells Estates, is just near completion and is designed to assist with overcoming the high penetration solar issue.
"This is an all-electric home," Everson said.
Nothing in the home requires the use of gas for its essential functions and it is built to be hyper-efficient.
The major innovation is that the home is fitted with a battery.
Using just enough solar panels to keep the battery charged during the day, the idea is that the home relies primarily on the battery to run all of its electric needs and almost never has to interact with the grid until the evening when the grid is least stressed from consumer use.
"We charge the battery at night with the power that [the utility companies] want to sell us, we charge during the day with solar, and you bookend the peaks," Everson said.
To make a battery-powered home feasible on a production scale, however, Everson is looking for some financial backing from APS.
"We're close," Everson said. "Right now, we're going to be asking the utility for a couple grand and we'll be there."
Representatives from APS have yet to take a good look at what Everson has come up with, but the company's initial reaction carries some promise.
"We're excited about it," Romito said. "We're excited for the conversation and we're excited for the innovation.
"We will always have an agnostic nature as long as what we're doing in partnership with others is safe, reliable, affordable and resilient, meaning it's cyber secure."
Romito does have some reservations, however.
"The important thing to realize is the relationship between the innovative technology and the grid cannot be overstated," Romito said. "Solar is intermittent; batteries are time oriented in terms of charge and discharge; so they have certain limitations.
"The concept is wonderful, it's the execution and the understanding of the relationship 24/7, 365 with the grid that can be an issue. The builder can only do what the builder can do. He can set up the perfect house. It's the homeowner that's going to have the relationship with the technology and the utility."
If Everson can convince Romito that the battery-powered home he has created is deserving of some sort of subsidy or rebate, then Everson plans to adopt the concept in whatever home community he builds next.
"The whole community will be branded that way," Everson said.
Though a date has yet to be announced, there will be a ribbon-cutting ceremony along with a tour offered to the public of the discovery home in the near future, according to a news release.
More like this story
SUBMIT FEEDBACK
Click Below to: