Water-themed decor adds dimension to a room
Bring the beach indoors for relaxing experience
Kim Cook, The Associated Press
Originally Published: June 2, 2017 10:08 p.m.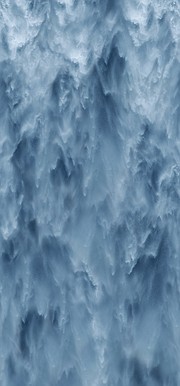 Summer for many of us means reconnecting with water — lakeside hikes, paddles in the sea, luxuriant floats in some relaxing pool.
And that connection isn't confined just to the outdoors, either. Watery hues and motifs are all over home decor.
"Water imagery adds a beautiful dimension to a room," says designer Ohara Gaetano-Davies of Laguna Beach, California.
Her projects include beachfront homes in Southern California and Cape Cod. In a seaside home in Laguna Beach's Emerald Bay area, she painted the interior of some open cabinetry a serene pale blue, evoking beach glass. A collection of white coral sits on the shelves. A large, contemporary painting of a woman diving fills one crisply painted white wall.
For a small powder room, Gaetano-Davies went with Phillip Jeffries' Fade Sea Spray wallcovering, a textural rendition of gently rolling waves in soft blues. (www.phillipjeffries.com )
"The gradation of color and tone adds beautiful dimension and movement to a relatively small space," she says. "Your eye focuses on the movement of the pattern and not the scale of the room. "
For Trove's new wallpaper collection, designers Randall Buck and Jee Levin used Chilean poet Pablo Neruda's "Water" poem as inspiration. Their watercolor paintings evoke both the serenity and explosive nature of water. In the three-pattern "Ode to Eau" collection, the Drift pattern is a cool horizon of gently lapping waves; Mazu carries us into a tumble of frothy waves; Estuary brings us right to the edge of a thundering waterfall, full of kinetic energy. (www.troveline.com )
Sometimes a stylized pattern successfully brings the theme home in a subtle way. Momeni's simple geometric repeat of a wave motif works beautifully on an indoor/outdoor rug at Target. (www.target.com )
An aqua-hued wavy scallop makes a chic and modern tray at Homegoods. (www.homegoods.com )
And then there are less subtle renditions of the water theme.
For Deny Designs, Las Vegas artist Lisa Argyropoulos' vivid photographs of sun-sparked oceans, bubbly wave curls and crystalline droplets make dynamic throw pillows. (www.denydesigns.com )
Australian photographer Beata Czyzowska Young's macro shots of rain, and of dewdrops on plant stems, are the stuff of fairy fantasy. (www.fineartamerica.com )
Contemporary artists explore the aquatic in the abstract at Crate & Barrel; check out prints like Kelly Ventura's "Pool," Lauren Adams' "Deep Water Ripple" and Deb Haugen's "Tide Pools."(www.crateandbarrel.com )
Gray Malin's aerial shots of beaches filled with sun lovers, and reef-dotted azure waters, are now available on acrylic trays. The transparent frames give the illusion that the ocean vistas are being held in place by the material. (www.graymalin.com)
If you're ready to make a bigger commitment to the watery trend, consider Luca Osburn's Tides ceramic tiles, part of Cle's Watermark collection. Osburn is a passionate surfer, and his designs are inspired by the changing waves on the Northern California coastline. (www.cletile.com )
Zazzle's Water Abstract Sea Tile is a close-up, digital image of a clear water pool, printed on ceramic. A dozen or so might make a pretty border in a bathroom. Can't quite dive right into the idea? The image is also available on a mug, pillow, wrapping paper, even a nightlight. (www.zazzle.com )
More like this story
SUBMIT FEEDBACK
Click Below to: