Signal at Glassford Hill Road, East Long Look to be taken out
Project is right on target, says PV public works director

Originally Published: June 1, 2017 5:57 a.m.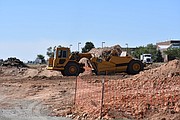 Big changes are coming to the construction project on Glassford Hill Road as the signal at the intersection of Glassford Hill Road and East Long Look Drive is going to be taken down over the next couple of days now that the upside utility work has been done, said Prescott Valley Public Works Director Norm Davis.
Doing so will make Glassford Hill Road a straight shot going northbound and southbound at that section with no left turns into the high school and no right turns, said Engineer Francisco Miramontes. Currently, the signal is constantly green for north and southbound lanes, Miramontes said.
The signal and intersection remained functional until this point because of the need to keep school open, Davis said.
"School got out last Thursday. We planned this whole project around school getting out and then we can really get the productivity going with that need only for a few cars a day. They can use the other access of Panther Path," he said. "We planned for this the whole time so now that school's out, we're going to take the signal out of service and just allow traffic straight through."
Detour routes are in place so if someone needs to go to that section of Long Look Drive, they can do so via Spouse Drive and Lakeshore Drive, Davis said.

The project is right on target and all things are going well, he said, stating that the anticipation is to have the new signal up and all the striping for the project in place by the first day of school, Davis said.
There isn't a definite date for when the new signal is going to be put in as they haven't looked that far into advance, Miramontes said. The hope is to get the new outer lanes paved in mid to late June, he said.
"I would expect those signs to be up sometime after that," Miramontes said, remarking that they won't necessarily be operational until the meat of the project is completed.
Glassford Hill Road isn't the only major road construction project going on though. The construction, along Lake Valley Road is coming along well, Davis said, adding that since school is out the additional lane, curb, gutter and sidewalk can be added. The expected completion date for that project is July 1, he said.
There's also the new signal coming in at Tuscany Way. The left turn lane has been paved and the signal is anticipated in the next couple of weeks, Davis said.
More like this story
SUBMIT FEEDBACK
Click Below to: