9 expected to vie for Prescott Mayor, Council posts
Signature verification still underway for four candidates

By
Cindy Barks
|
Cindy_Barks
Originally Published: June 1, 2017 6 a.m.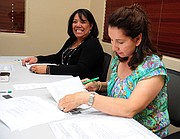 The names of nine candidates are expected to appear on the City of Prescott's Aug. 29 primary ballot.
Four more candidates – one for Mayor, and three for City Council – filed their petitions prior to the deadline Wednesday, May 31, joining five other candidates who filed earlier in May.
On Wednesday, the Prescott City Clerk's office accepted nominating petitions from:
• Mayoral candidate Jean Wilcox, who filed 917 signatures. Wilcox, a current City Council member, is vying for the mayor's post with fellow candidates Mary Beth Hrin and Greg Mengarelli.
• Incumbent City Councilman Steve Blair, who filed 907 signatures.
• Incumbent Councilman Greg Lazzell, who filed 835 signatures.
• Council hopeful Joe Viccica, who filed 895 signatures.
Blair, Lazzell, and Viccica join candidates Phil Goode, Alexa Scholl, and Constance Cantelme in running for three seats on the council.
A 10th prospective candidate, Rick LeVong, did not file the necessary petitions by the deadline.
The petitions filed this week still need to be verified – a process that DeLong said should be complete by Friday, June 2.
In order to appear on the primary ballot, the candidates need at least 718 valid signatures from registered Prescott voters.
As a part of its verification process, the city clerk's office disqualifies signatures of those who live outside the city limits. To determine residency, the clerk's staff enters each of the signers' addresses into a GIS database, she said.
The City Council seats currently held by Mayor Harry Oberg, Wilcox, Blair, and Lazzell are all up for election this year. The mayor's term is for two years, while the council members' terms run four years. Oberg earlier announced that he would not be seeking another term.
DeLong said mail-in ballots would be sent to registered Prescott voters beginning the week of Aug. 7. Voters will then have until Aug. 29 to return their ballots.
Candidates who receive more than 50 percent of the vote in the primary are elected outright. The city's general election is set for Nov. 7, during which a runoff election would take place for any undecided seats.
Related Stories
More like this story
SUBMIT FEEDBACK
Click Below to: