By
Nanci Hutson
|
HutsonNanci
Originally Published: July 31, 2017 6:03 a.m.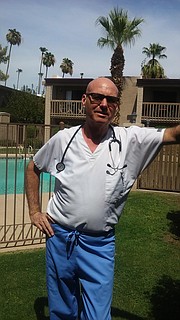 In the middle of the night, police are called for an unruly person outside a local business. A quick evaluation determines the person is not dangerous, but the behavior is related to a mental health/addiction-related concern.
Rather than call for an ambulance to take the person to the emergency room, the police dial a mobile crisis unit with trained staff able to evaluate and identify services available to assist them. If needed, the crisis unit can transport the individual to a mental health crisis center or rehabilitation facility, or get them stabilized so that they can seek psychiatric counseling or therapy during regular business hours.
Thanks to Terros Health, a mental health and substance abuse agency headquartered in Phoenix, a mobile crisis office with six therapists and trained clinicians has just been added to the mental health care delivery system in this area. Terros in May opened mobile crisis offices in Prescott Valley and in Flagstaff.
The timing of the mid-May opening of this office in Prescott Valley coincided with the June opening of West Yavapai Guidance Clinic's new, up to 24-hour crisis stabilization unit also located in Prescott Valley.
That unit has been hailed by law enforcement and hospital officials as a better means to care for those faced with a mental health or substance abuse emergency than either an emergency room or the county jail. In its first four weeks of operation, West Yavapai's unit has served 160 patients, with 13 clients the highest volume in one 24-hour period.
Mental health facts
More than 40 million Americans adults experience
mental illness in a given year, or one in 5 adults.
Nearly 1 in 25, or 10 million adults, live with a serious mental illness.
One in 10 young people experience a period of major depression.
As of 2014, about 8 million adults struggle with a co-occurring drug or alcohol dependency; about 5 percent of adolescents suffer with a substance abuse disorder, or about 1.3 million teens, or 1 in every 12.
Drug abuse and addiction cost Americans some $200 billion in health care, criminal justice, legal and lost workplace production
Sources: Mental Health of America and American Addiction Centers.
Contacting Terros
The Terros Health mobile crisis intervention hotline: 877-756-4090. Anyone can call and it is answered on a 24-hour, seven-day-a-week basis.
The Terros office is located at 8128 E. Highway 69, Suite 101, in Prescott Valley.
West Yavapai and Terros' officials view each other as partners in the local adult mental health and addiction arena – Southwest Behavioral Health also is a major player in this region – by offering new crisis-related services that are not competitive, but complementary.
"When a psychiatric crisis occurs, and it can be at a home, a business, or a hospital emergency department, we can work with the person in crisis and deescalate the situation and decide on the next level of care," said Andrea Smiley, director of Terros' marketing and business development office, of the mobile crisis team. She said they will take referrals from police, schools, churches, or families – Terros contracts with the Crisis Response Network to operate its hotline.
West Yavapai's new facility, which also includes eight beds for those who might need short-term, round-the-clock care, offers Terros' staff a place where they can bring someone for further evaluation.
"Definitely Terros is working very close with us to assure comprehensive mental health interventions are available in our community," said Laura Norman, West Yavapai Guidance Clinic's chief development and communications officer. "We're very glad to have them locally to support our community and what West Yavapai does here in the community."
Retired Prescott family practitioner Bill Thrift, a founder of the Terros Health movement that dates back to 1969, said mental health is "the red-headed stepchild" in most communities. He said he appreciates that this community is seeing the need to be as concerned about a person's mental health as they are their physical well-being.
In his early days with Terros, Thrift said he remembers "hopping into an old Volkswagen bus to rush to someone's home" because they were in the midst of a mental health or substance abuse crisis. The agency's protocol today may be more sophisticated, but Thrift said it is answering the same kind of need.
"It brings back memories of days past," Thrift said. "This is wonderful for the community."
Robert O'Brien, 57, a nurse in Phoenix, can attest to Terros' ability to transform lives.
A one-time alcohol and methamphetamine abuser, O'Brien ended up enrolled in one of Terros' six-month, intensive outpatient and relapse prevention programs. Beyond working with him to stay clean and sober, O'Brien said Terros offered an integrated health approach that incorporated his physical and emotional well-being.
"I took advantage of everything they had to offer," O'Brien said.
In March, with now over seven years of sobriety, O'Brien's nursing license was restored. He is now working at a hospital in Phoenix, but hopes to eventually go to work for Terros. He credits them with helping him take stock of his life priorities.
"There is a lot they can do within the community," O'Brien said of Terros' various mental health services. "The mobile crisis intervention – I've seen them in action in Phoenix. It's real good work."
"We're really happy to be here," Smiley said. "This is a great community and we want to do what we can to help the citizens."
Follow Nanci Hutson on Twitter @HutsonNanci. Reach her at 928-445-3333, ext. 2041
More like this story
SUBMIT FEEDBACK
Click Below to:
This Week's Circulars
To view money-saving ads...