Are we to blame for intense wildfires?
Scientists: Human-caused climate change driving larger, more destructive wildfires; But not all experts agree
Originally Published: July 31, 2017 6:05 a.m.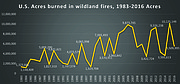 If you feel as though wildfires have become bigger and more common recently, you're not imagining things, say some scientists, who claim human-caused climate change is behind the blazes.
"Increased forest fire activity across the western United States in recent decades has contributed to widespread forest mortality, carbon emissions, periods of degraded air quality, and substantial fire suppression expenditures," said John T. Abatzoglou of the University of Idaho and A. Park Williams of Columbia University.
They said, in a 2016 paper, their research demonstrates that "human-caused climate change caused over half of the documented increases in fuel aridity since the 1970s and doubled the cumulative forest fire area since 1984."
The federal government, in the form of the U.S. Global Change Research Project, agrees that climate change will make for more and worse fires.
"Climate change is projected to increase the number and severity of naturally occurring wildfires in parts of the United States," the agency said in its "Climate and Health Assessment."
Researcher Brian J. Harvey of the University of Colorado at Boulder, put his conclusions in the title of his report: "Human-caused climate change is now a key driver of forest fire activity in the western United States."
More and larger fires present not just the obvious threat — property destruction — but also health problems.
"We found consistent evidence of associations between wildfire smoke exposure and respiratory morbidity in general, and specifically for exacerbations of asthma and COPD," said the six researchers behind the report, "Critical Review of Health Impacts of Wildfire Smoke Exposure."
"Growing evidence suggests associations with respiratory infections and all-cause mortality," the research paper continued.
"Results point to the potential health impacts of increasing wildfire activity on large numbers of people in a warming climate and the need to establish or modify US wildfire management and evacuation programs in high-risk regions," said 10 researchers in a 2016 report.
The conclusions to be drawn from this research:
Wildland fires have grown in number, size and intensity over the decades.
Climate change, which these researchers claim is human-caused, is behind this increase.
More fires translate to an increased health risk.
A dissenting viewpoint
Scott Spleiss, the Fuels, Prevention and Detection Battalion Chief for the Prescott National Forest, does not agree that human-caused climate change is causing more intense wildfires.
"I would say that, from a cyclical prospective, we're having more and larger fires because of the success that we had, in our past, of putting out fires," Spleiss said. "It doesn't have anything to do with anthropogenic climate change and has everything to do with climate change — understanding that climate change is a cyclical event."
He pointed out that, in the 1970s and 1980s, Arizona was much wetter, with "really good winter rains and really good summer monsoon rains."
Spleiss said Smokey Bear, the U.S. Forest Service's fire-allergic mascot since the 1940s, may have done more harm than good in the long run.
Called "The Smokey Bear Effect," the good intentions of officials who wanted to stop forests from "burning down" were taken to an extreme: all fires are bad.
They aren't, of course. Ecosystems in their undisturbed forms require fire. In the southwestern U.S., for thousands of years, fires swept over the landscape every 10 years or so.
Spleiss said that, pre-World War I, "millions of acres" across the western states burned freely, keeping the fuels to a minimum. With those fuels under natural control, fires did not become conflagrations.
The problem, of course, is that there are "values" — homes and other structures — in the path of fires now. Managers can't generally allow fires to burn as they did in the past for fear it will destroy that property.
He points out that firefighters worked hard for days to stop the Goodwin Fire, which endangered Mayer, among other communities, and then, a week later, allowed the Hyde Fire, which didn't pose a significant threat to values, to burn 18,000 acres.
"Fire plays such a significant role in the health of the ecosystem, that we have to figure out some way to balance it, and by doing it in these real small patches with prescribed burning, we'll never get ahead," Spleiss said.
As for smoke from wildland fires, he said, the problem may be that people became so accustomed to clear skies because fires were suppressed, they no longer realize that it was more common decades ago. And, he said, smoke has benefits to downwind plant life that we are just learning about now.
"Fire is neither good nor bad, until we put it in the context of human values or life," he said.
Follow Scott Orr on Twitter @AZNewsguy. Call him at 928-642-6999. Email him at sorr@prescottaz.com.
More like this story
SUBMIT FEEDBACK
Click Below to:
This Week's Circulars
To view money-saving ads...