Recent floods cause major damage to local farms
Paulden farmers ask for help after devastating storm

By
Max Efrein
|
mefrein
Originally Published: July 30, 2017 6:02 a.m.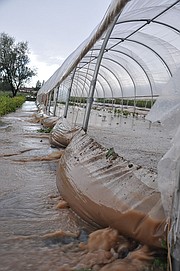 Extreme weather has wreaked havoc on local farms in recent weeks.
One freak storm in particular tore through Paulden on Monday, July 17, destroying crops and even killing animals.
In their 20 years of farming locally, Cory and Shanti Rade, owners of Whipstone Farm, said they have never faced the sort of weather-related damage to their livelihood as they did that day.
"This is by far the worst," Shanti said. "To quantify it, I'd say this is twice as bad — flood wise — as we've ever had before."
That same storm brought a flurry of hail.
"It was a double whammy," she said.
When the storm passed and flooding subsided, they tallied the cost.
"Everything that was damaged and didn't seem salvageable, we tried to put dollar values on," Shanti said. "We figured about $75,000 in damage, but we were trying not to overestimate, so that's probably a low ball."
Similar devastation occurred just down the road at Hernandez Farm.
Speaking for her father and owner of the farm (Ruben Hernandez), Maria Reyes described it as a dark day. Her father had already experienced a rough year to date battling frosts and extreme heat. Watching many of his crops gets wiped out on Monday almost broke his spirit.
"He was really depressed," Reyes said. "It was really hard on him because it's his only farm, it's his only work. He depends on that."
Also on that road is Ridgeview Farms, a family-run poultry business that raises chickens, turkeys and quail for meat and eggs.
Monday was a terrible day for them as well. When the rains hit, water swept in quickly, flooding their yard, house, horse stables and chicken barns.
The coops filled with water and nearly all of their young chickens were killed.
"There was no way we could pull them out in time," said Christina Florea, who owns the farm with her husband, Byrnie.
Overall, about 630 chickens and eight turkeys died in the event, she said. Financially, this came out to between $10,000 and $12,000 in losses. They said about $5,000 of that was recovered through insurance.
All three farms expect shortages of inventory for weeks to come and ask that customers be patient and understanding as they recover.
They also request the community's support. None of these farms have reached out for donations before, but given the circumstances, each has set up online fundraising pages.
Whipstone Farm was the first to get this set up and has raised well past its goal of $10,000. Their campaign, which includes much more information about what they went through, is at GoFundMe.com/WhipstoneFarm.
Hernandez Farm and Ridgeview Farms only recently got their campaigns going and have quite a ways to go before hitting their goals of $5,000 and $3,000.
The campaign for Hernandez Farm can be found at YouCaring.com/HernandezFarm-887795.
The campaign for Ridgeview farm can be found at YouCaring.com/RidgeviewFarms-887342.
The Prescott Farmers Market has been assisting the relief effort by getting the word out and helping the less tech-savvy farmers set up their fundraisers.
"We're a non-profit, so launching fundraisers for farmers is definitely on point with our mission," said Kelley Villa, the market's manager.
To support the farmers through buying their goods, they can be found at the market in Prescott on Saturdays from 7:30 a.m. to noon outside Yavapai College, Prescott Valley on Tuesdays from 3 to 6 p.m. outside Harkins Theatres and Chino Valley on Thursdays from 3 to 6 p.m. outside Olsen's Grain.
More like this story
SUBMIT FEEDBACK
Click Below to: