'Hit piece' flyer overshadows Prescott candidate forum

By
Cindy Barks
|
Cindy_Barks
Originally Published: July 29, 2017 6 a.m.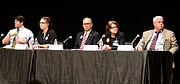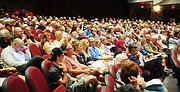 For two hours Thursday evening, July 28, eight of the nine Prescott Mayor and City Council candidates responded to questions on hot-button issues such as Proposition 443, airport expansion, and job creation.
All of that was overshadowed in the final moments of the candidate forum, however, when mayoral candidate Mary Beth Hrin broached a flyer that had been mailed to voters, which Hrin said represented a "hit piece" against her.
After ripping up a sheet of paper that she said contained her intended closing argument, Hrin rose from the candidates' table and stood at the front of the stage at the Yavapai College Performing Arts Center and said, "I can't talk about that – because of this."
With that, Hrin held up a flyer that she said had gone out widely to Prescott voters, alleging an unpaid medical bill. "This is a $15,000 mailer, paid by the firefighters' union," Hrin told the crowd of nearly 300, adding, "I'm sure everyone sitting here received this."
She denied the flyer's allegations, noting, "I'm not being sued by anyone, nor did I ever not pay a bill."
Hrin maintained that she was being attacked by the firefighters' union "because I have dared to speak out about their pensions."
As a high-profile advocate of reform of the Public Safety Personnel Retirement System (PSPRS), Hrin has made a number of public presentations on the pension system's problems and past investment losses.
Information on the flyer attributes the source as the Arizona Voter Education Project, which is listed on the Arizona Corporation Commission website as a civic non-profit organization from Maricopa County. The organization was listed as "not in good standing," because of issues with the filing of its 2017 annual report, although the corporation was later reinstated. Other than basic location and officer information, the site offers sparse information about the organization or the source of its money for flyers.
Prescott City Attorney Jon Paladini said such organizations file through the state, and are not required to file with the city clerk's office, (as local political action committees are required).
As such, the organizations – sometimes referred to as "dark money" – are not required to disclose their donors.
After the forum, Hrin said she had learned of involvement by firefighters' union from a local resident with political ties, although she declined to provide documentation.
While representatives of the local firefighters' union were not on hand at Thursday's forum to respond to Hrin's statement, the United Yavapai Fire Fighters Local 3066 issued a written statement Friday afternoon denying Hrin's claim about involvement in the flyer.
Ben Roché, secretary/treasurer and vice president of political affairs, said, "Absolutely not; we know nothing about that flyer."
In his written statement, Roché said, "Mary Beth Hrin's pattern of attacking Prescott firefighters and the men and women on the front lines of public safety is beyond disturbing. Hrin's actions represent an ongoing vendetta that goes beyond all reason and truth."
Roché's statement maintained that Hrin uses "fake facts" in her presentations, and concluded with: "We did not attack Mary Beth Hrin, and we hope she stops attacking firefighters — immediately."
Questions
Prior to Hrin's closing statement, five of the candidates running for Prescott City Council seats and the three mayoral candidates responded to about a dozen questions compiled by the forum sponsors, the Prescott Branch of the AAUW, the Citizens Tax Committee, the Prescott Chamber of Commerce, and the League of Women Voters of Central Yavapai County. (Council candidate Greg Lazzell was out of town and unavailable to attend).
Sanford Cohen, Prescott Chamber Board Chair and radio host, moderated the forum and asked a series of questions on issues such as: Proposition 443 (the city ballot issue seeking a 0.75-percent sales tax increase to pay down the city's unfunded liability with the PSPRS); open space; economic development; expansion of the airport; mining activity in the area; and the Big Chino Water Ranch.
As at previous forums, the candidates split 6-2 on the Proposition 443 debate, with the majority voicing support, and Hrin and council candidate Phil Goode opposing.
The economic development question elicited strong support from the two under-30 candidates, Alexa Scholl and Joe Viccica, for more and better-paying job opportunities.
Noting that, at 19, she is at "ground zero of the exodus of young people from Prescott," Scholl pushed for younger representation on the council, and questioned the city's decision-making that affects young people "until somebody under 30 is on the City Council."
Viccica, 28, spoke next and said, "I agree." He noted that as a student at Embry-Riddle Aeronautical University, he frequently attended going-away parties for his former classmates, who were unable to find jobs in Prescott. "Last year at Embry-Riddle, 2 percent of the graduates stayed in Prescott," Viccica said.
Mining
On the mining question, several of the candidates advocated for more involvement by the city and surrounding communities in decisions about the Kirkland Mine – especially relating to the impacts from mining-truck traffic.
On such projects, mayoral candidate Greg Mengarelli said, "I think partnerships are very, very important."
Mayoral candidate Jean Wilcox noted that the Prescott City Council had agreed this past week to send a letter to the Bureau of Land Management listing a number of concerns, including mining traffic on city roads, possible use of the railroad instead of roads, and potential health concerns.
Council candidate Connie Cantelme said she would support the mining operation – "But not at the expense of our health," while candidate Phil Goode said he was opposed to the project. "The benefits (from the project) are minimal to the city and county," he said.
Recreation
On a question on family-focused recreational opportunities, several candidates, including Hrin, Goode and council candidate Steve Blair, maintained that Prescott already offers plenty of recreational opportunities, and that it should not be the city's responsibility to improve the options.
"We have a great trail and parks system," Blair said. "I think you have to make your own enjoyment."
Another forum will take place from 10 a.m. to noon, Aug. 5, at the Granite Peak Unitarian Universalist Congregation building, 882 Sunset Ave., Prescott. The forum is sponsored by the Citizens Water Advocacy Group (CWAG) and will focus largely on water issues.
Related Stories
More like this story
SUBMIT FEEDBACK
Click Below to:
This Week's Circulars
To view money-saving ads...