7 Prescott artists donate to Jerome's Raise the Roof event
Originally Published: July 28, 2017 5:50 a.m.
Seven artists from Prescott contribute their work to fundraiser
Marjorie Claus--mixed media, batik paintings
Bernie Lopez--acrylic paintings
Sid Freeman--calligraphic paintings
Sarah Foster--jewelry
Sally Davidson—painting, sculpture
David Neely--digital photography
Christine Ryback--concrete leaves, hats, purses
The Jerome Hotel desperately needs a new roof, and the Jerome Artists' Cooperative Gallery, a 20-plus-year tenant of the Hotel Jerome, is hosting a fundraiser to help pay for badly needed repairs.
Seven artists from Prescott have donated their artwork to the "Raise the Roof" event taking place from 5 to 8 p.m. Saturday, July 29, at the Gallery located on the ground level of the Hotel Jerome, 502 N. Main St. in Jerome.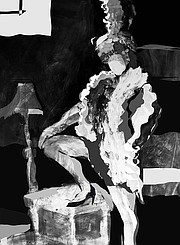 The Hotel Jerome, built in 1917, is celebrating its 100th birthday. According to a newspaper article in the gallery, the Hotel "was a stunner in its day with phones and showers in every room."
The roof has been leaking for many years, right down through all three stories and into the gallery. The Jerome Co-op has already donated $11,000 to this effort, and 100 percent of the proceeds of the "Raise the Roof" fundraiser will go toward replacing the roof.
In addition to bidding on the artwork, participants can enjoy viewing other art in the Gallery, food and wine and entertainment by the Jerome Ukulele Orchestra.
For more information, call 928-639-4276 or visit www.jeromecoop.com.
More like this story
SUBMIT FEEDBACK
Click Below to: