Howlin' at the Highlands concert features jazz - now on Aug. 18

By
Cindy Barks
|
Cindy_Barks
Originally Published: July 27, 2017 10:01 p.m.
Updated as of Monday, August 7, 2017 6:29 AM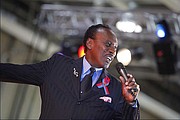 After rainy monsoon weather caused the postponement of the mid-July Howlin' at the Highlands Concert, a new event has been planned for Aug. 18.
Mike Vax, festival director and long-time jazz musician, said organizers ended up canceling the July 16 Howlin' at the Highlands concert because of flooding conditions that weekend.
Now, Vax says, the Prescott Jazz Summit has scheduled a larger event for Friday, Aug. 18, at the Highlands Center for Natural History, 1375 S. Walker Road, Prescott.
The concert will feature Dennis Rowland, a jazz vocalist who Vax said is "one of the most loved musicians in the Phoenix area," along with Renee Patrick, a jazz and R&B singer who also is a popular Phoenix performer.
Accompanying the vocalists for a portion of the show will be the Prescott Jazz Summit All-Star Combo, a group that has played together for a decade and a half.
Tickets are $20 and are available at www.prescottjazz.com or by calling Kristy at 928-277-1576 or 484-588-0066. Tickets are also available at the Highlands Center Gift Shop and will be on sale at the concert as well.
SUBMIT FEEDBACK
Click Below to:
More like this story