Fair Start backpack program scheduled for Saturday
Low-income students get set of school supplies

By
Nanci Hutson
|
HutsonNanci
Originally Published: July 26, 2017 5:55 a.m.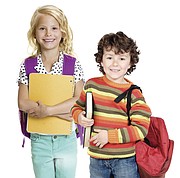 Part of the delight for most students of going back to school is wearing new clothes, sporting a new theme backpack – super heroes are still popular – stuffed with all new supplies.
A new beginning with lots of possibilities.
School leaders and non-profit organizers yearn for all students to come to school ready and eager to learn, and part of that has to do with getting them started on the right foot.
For the last 13 years, the Coalition for Compassion and Justice has organized a community-funded program called Fair Start to ensure that even low-income children are able to have the things they need to feel good when they step off the bus to head to their classrooms.
CCJ leaders and their donors recognize that the cost of buying all new supplies and backpacks can prove a strain for families who are already on a fixed income, stretching their dollars to cover the basics of food and shelter for their children. They, too, are aware of parents' angst over sending children to school without the things many of their peers take for granted.
Thanks to this outreach more than 1,400 children between kindergarten and 12th grade are able to enjoy their own shopping day -- CCJ opens up its facilities located at the Prescott United Methodist Church at 505 W. Gurley St. – where they get to pick out a new backpack and the supplies they need to launch the year; pencils and pens, crayons, notebook paper and folders, scissors, erasers, rules and more. Older students will also be equipped with such technology devices as flash drives. Donors even give supplies of new socks that can be worn with the new shoes supplied through a coordinated church program called "Shoes from the Shepherd."
Once the students collect their school supplies they are sent to a separate area where church volunteers will give them a gift certificate for a new pair of shoes.
Businesses, community members, former recipients all rally to this annual event that CCJ leaders and supporters say is a highlight for them because of all the smiles they see on faces of children who otherwise might be destined to a less than fair start come the new school year.
Eligible families are identified through the school district, local social service agencies, churches and CCJ's programs that benefit low-income or homeless families
The Fair Start distribution is scheduled for Saturday, July 29 from 9 a.m. to 1 p.m.
For more information, contact CCJ at 928-445-8382.
More like this story
SUBMIT FEEDBACK
Click Below to: