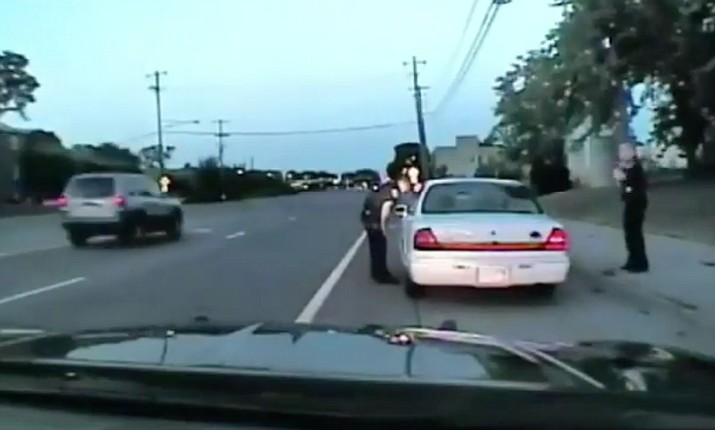 Originally Published: July 25, 2017 6:03 a.m.
The Arizona Department of Transportation Motor Vehicle Division has released an updated Arizona Driver's License Manual that includes information on how drivers should behave during police traffic stops.
A request from state Rep. Reginald Bolding (D-South Phoenix) prompted the new section, said Doug Nick, ADOT spokesman.
"He approached us several months ago, and he suggested that we explore doing this, and we thought it was a good idea," Nick said.
ADOT worked with law enforcement agencies to develop the guidelines, he added.
Among the major points detailed in this section are:
When observing a law enforcement vehicle with its lights on, a driver should yield to the right side of the road and stop in a safe location off the main roadway as soon as practical unless the officer directs the driver to a different location in a safe spot.
Drivers should comply with a law enforcement officer's orders and failure to do so can result in an arrest.
Drivers should put the car in park and remain in the vehicle, and all occupants should keep their seat belts fastened. The driver should keep his or her hands on the steering wheel, wait for the officer to make contact, consider lowering the windows to help the officer see and hear inside the vehicle, turn on the interior light if it's nighttime, and inform the officer of any weapons that may be in the vehicle.
Drivers should not reach around inside the vehicle unless informing the officer and receiving permission, nor should drivers get out of the vehicle unexpectedly or approach the officer.
Department of Public Safety Captain G. R. Manera, who commands the Prescott district, said, "Officers never know what to expect from a traffic stop. It could be a violent felon who has just committed a crime or it could be an average citizen who simply was not paying attention to a particular traffic law. That is the dilemma facing officers every time they initiate a traffic stop.
"These types of reminders are to ensure the officer approaching a vehicle and the driver are safe. It lets the officer know there is no threat and they can go about the business of the traffic stop," Manera said.
And FBI study found that, "from 2001 to 2010, approximately 60 of 541 officers who were feloniously murdered in the line of duty were killed during a traffic stop, and 55,000 were injured during a traffic stop or pursuit."
Statistics like these are the reason police are often tense as they approach a car they've stopped for speeding.
"There is really no such thing as a routine traffic stop for police officers," Dwight D'Evelyn, Yavapai County Sheriff's spokesman, said. "The driver and any other occupants need to understand the officer expects cooperation – anything else may be perceived as a threat."
He noted that any disagreements about the validity of the stop could be addressed later, in court if necessary.
Manera said, "With the increase in violence that seems to be occurring all over the country, it's imperative that the motoring public and law enforcement have a mutual respect for one another to ensure a safe outcome of a traffic stop."

The revised manual can be found on the ADOT website at www.azdot.gov/manual.
2016 Killing of of Philando Castile Played a Role
Substory by Howard Fischer, Capitol Media Services
PHOENIX -- If the new language in the state's driver license manual sounds like something crafted by Black Lives Matter, there's a good reason for it.
The provisions tell motorists what to do if they're pulled over by a police officer. And there are specific warnings about what NOT to do, like reaching around in the vehicle or getting out.
Rep. Reginald Bolding, D-Laveen, who helped craft the language, said the goal is pretty simple. It's designed to keep drivers from getting shot by police. And Bolding, who is black, said the record shows that the victims of these incidents are more likely to be black or brown.
"When you look at what's taken place across the country, you have seen a majority of individuals who are people of color that have had higher incidence of interactions with law enforcement officers, particularly in shootings,'' he said. "Hopefully we can get to a place where that's not the reality.''
It was just one such shooting of a black man that got Bolding to get the ball rolling: the 2016 killing of of Philando Castile by a Minnesota police officer.
Bolding said in the wake of that incident he reached out to eight different police departments, asking them what motorists should do to avoid becoming a victim.
"I recognize this won't solve all officer-involved shootings,'' Bolding said. "I do hope that this could potentially save a life by giving a recommendation of what to do.''