Need2Know: New Prescott Animal Hospital; Radio show for women; Goodwill hiring fest
Originally Published: July 23, 2017 5:58 a.m.
New Prescott Animal Hospital being constructed
Prescott Animal Hospital is having a new facility constructed right next to its current one at 1318 W Iron Springs Road in Prescott.
The building will be a 15,800-square foot state-of-the-art animal hospital. It will be a single story, masonry, wood frame structure with associated new parking and landscaping.
The existing Prescott Animal Hospital will remain open while the new facility is being built. The general contractor for the project is Haley Construction. The Architect is Animal Arts Architecture.
The new facility is expected to open in early 2018.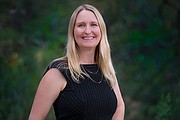 Prescott Public Radio running new show for women on weekends
Prescott Public Radio has a new radio show, She's All That.
The show, hosted by longtime Prescott resident Erica Ryberg, covers women and issues affecting women in the Prescott area and is offered in an interview and discussion format.
It airs at 90.1 on KJZA on Saturdays at 11 a.m. and Sundays at 12:30 p.m. Recordings of the show are available after airtime at www.shesallthataz.com.
The show replaces the Janis Best Show, which was airing in the same timeslot until Janis Best's unexpected passing. Ryberg plans to carry on with the previous show's mission to provide value to the women of Northern Arizona, she said.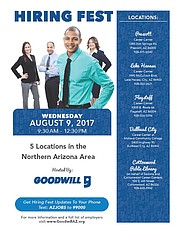 Goodwill hiring fest coming up
Goodwill is hosting a hiring fest on Wednesday, August 9, in five locations throughout Arizona, including its career center in Prescott, 1385 Iron Springs Road.
The employers participating in Prescott are Yavapai Regional Medical Center, Dillard's, Goodwill Retail Stores, Consumer Direct and Elwood Staffing.
The event is scheduled for 9:30 a.m. to 12:30 p.m. For more information, call 928-515-6540.
More like this story
SUBMIT FEEDBACK
Click Below to:
This Week's Circulars
To view money-saving ads...