Chino Valley shooting suspect's name released
Paulden man remains in critical condition
Originally Published: July 23, 2017 6:02 a.m.
Updated as of Monday, July 24, 2017 12:01 PM
Photo Gallery
Chino Valley Shooting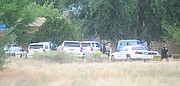 The Yavapai County Sheriff's Office released the name of the suspect in an officer-involved shooting incident in Chino Valley on Friday.
He is identified as 70-year-old Martin Louis Avena from Paulden. Avena was shot by a YCSO deputy and a Chino Valley Police Department officer on Friday after allegedly threatening them with a gun, according to a news release from YCSO.
He remains in critical condition in a Phoenix area hospital, the YCSO announced Sunday afternoon.
Law enforcement was looking for Avena after a domestic violence call in Paulden, where he allegedly attacked his wife and left armed, threatening any police who came after him.
His older-model, blue van was spotted and eventually stopped in a parking lot in the 400 block of Palomino Road in Chino Valley. When police confronted him, they say he threatened him with a firearm and was shot as a result, according to the YCSO release.
The case is being investigated by the Arizona Department of Safety.
Related Stories
SUBMIT FEEDBACK
Click Below to: