Local Artist wins national VA competition
Hopi artist wins top national VA art competition with "code talker" painting

By
Nanci Hutson
|
HutsonNanci
Originally Published: July 23, 2017 6:02 a.m.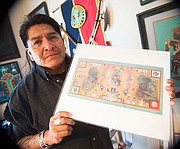 Hopi artist Filmer Kewanyama grew up on tribal lands in Northern Arizona, absorbing the history, culture and artistry of his ancestors at an early age.
The 58-year-old's connection to his Native American roots has never swayed. His emergence as a commercial artist, though, did not occur until the Desert Storm veteran's retirement from a 21-year career in the United States Army that then led to teaching military science and law enforcement, including about five years as a security officer for federal buildings in Phoenix.
In 2004, the retired first sergeant was suffering from a severe back injury, and moved to Prescott where he became a patient of the Northern Arizona Veteran Affairs Health Care System, one he hails as helping him not only cope with his medical issues but encouraging him to return to college.
So he did.
He earned an associate's degree in graphic design from Yavapai College in 2010, with that accomplishment kick-starting his affection for contemporary fine art he uses to herald his heritage.
"Most of what I do today is Hopi art," said Kewanyama, a widowed father of five who has three grandchildren. "I want to teach the non-Hopi who we are," he said.
His studio is full of vibrant, abstract paintings, often of Katsinas, or spiritual messengers, and other cultural and symbols rooted in their spiritual beliefs of peace and harmony in the world. His art, though, has also evolved to the use of oils, charcoal and clay for landscapes, sketch drawings and sculptures. On one of his easels stands a charcoal sketch of a cowboy, and across his work table is an acrylic with a greenish background titled "Water Is Life." That painting depicts a Hopi Katsina with an owl's face drinking water from a stone-covered pond.
In October, Kewanyama will serve as a Hopi ambassador when he travels to Buffalo, N.Y. to be honored with the top prize in the National Veteran Creative Arts Festival.
"I was just thrilled," Kewanyama said of the selection from 1,600 entries of his mural-sized painting that showcases both Hopi and military history by revealing the role of Hopi code talkers during World War I and World War II.
The Navajo's role as code talkers has long been known and revered, but Kewanyama said there were several tribes who participated in World War I and 14 tribes, including the Hopis, in World War II. He met one of them, Travis Yaiva, at the local VA.
"Homage to the Hopi Code Talkers" combines true-to-life images of two Army soldiers with a Hopi Katsina in the center. Tribal symbols and codes are sprinkled around the painting. In one corner, Kewanyama painted an American flag merged with the tribal one; a symbol of the two worlds melding into one.
More than a year in the making, Kewanyama won first place in the local VA festival in February and then in May he was informed he had won top prize at the national level.
"In the painting, there is rich symbolism about the Hopi's process of growth," according to a Department of Veteran Affairs news release. "These men relied upon their faith and way of life to sustain them … The painting brings full circle a long line of military experience of the Hopi people who have responded to their country's call even though they are a people of peace, serving all Americans, not just the Hopi people."
An accomplished storyteller, Kewanyama is motivated to use his eye-catching contemporary pieces to share more than just the Hopi story, according to fellow artists and friends. He strives to elevate the contributions of all Native American tribes into today's culture because he is a believer that all people should treat one another as neighbors, said Patti Ortiz, the marketing and art education director at the 'Tis Gallery.
One of Kewanyama's passions is serving as curator for the gallery's annual spring "Journeys In Spirit" show that brings together 32 artists from at least seven Native American tribes.
"With Fil it's all about getting to know your neighbors," Ortiz said. "He's a native that lives in both worlds, comfortably," Ortiz said.
In his talks and participation in various museum art shows ¬– Kewanyama is a board member at the Smoki Museum – the artist with a mane of waist-length black hair cropped short in the front likes to take on the role of history teacher. He wants his audiences to appreciate the role of Native Americans in ancient and modern day culture.
"Every time I meet up with Fil, he always gives me an education," Ortiz said.
More like this story
SUBMIT FEEDBACK
Click Below to:
This Week's Circulars
To view money-saving ads...