Honoring the true image of the cowboy with factual history
Whisky Row Shootout continues Sunday

By
Max Efrein
|
mefrein
Originally Published: July 23, 2017 5:54 a.m.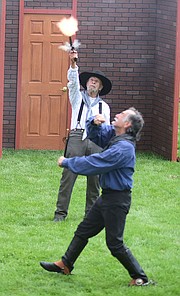 There's a difference between a 'real cowboy' and a 'reel cowboy.'
That's how Lee Anderson puts it. He's a living historian and horseman of the old school – as is stated on his business card.
His specialty is in sharing the facts of the true cowboy, which he does regularly through programs for schools, nonprofits and corporate/civic events.
On Saturday, July 22, he spent the day at the 12th Annual Whisky Row Shootout in downtown Prescott educating attendees about cowboy history in honor of National Day of the Cowboy, which is observed every fourth Saturday in July.
While the cowboy was made famous by the entertainment industry, it created a mythological image of the western lifestyle.

"Cowboys didn't live in a bar and shoot people," Anderson said. "They took care of cows."
Very few even carried a firearm, he said.
"The only reason they might need a firearm is to put down an animal that is too sick or too hurt to get well or shoot a predator."
This was all said as reenactments of famous western gun battles blasted in the background.
This year's Shootout features seven reenactment groups. All volunteer their time to enhance the experience and raise funds for the annual nonprofit effort.
For the past three years, the Prescott Regulators and Their Shady Ladies – who host the event – have donated a portion of the event's proceeds to the Yavapai College Foundation. The gift is then given to a student veteran in financial need.
Last year's check was for $2,000 and ended up going to a former Navy foreman, which allowed him to enter Yavapai College's nursing program without accruing any debt.
This year's check was for $2,500 and will go to another deserving veteran once school starts in August.
"This is what the Shootout is all about," said Neil Thomas, President of the Prescott Regulators and Their Shady Ladies, as he handed the check to Paul Kirchgraber, Executive Director of the Yavapai College Foundation.

The Whisky Row Shootout continues today, Sunday, July 23. It starts at 9:30 a.m. on the Mile High Middle School athletic field and continues through the day. Performances by the Prescott Regulators and Their Shady Ladies take place at 12:30 and 2:30 p.m.
More like this story
SUBMIT FEEDBACK
Click Below to: