Officers from 2 agencies involved in Chino Valley shooting
70-year-old suspect shot, sent to a Phoenix hospital

Originally Published: July 21, 2017 5:37 p.m.
Updated as of Saturday, July 22, 2017 6:04 AM
Photo Gallery
Chino Valley Shooting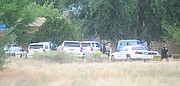 A Yavapai County Sheriff's deputy and a Chino Valley Police officer were involved in a shooting that took place in Chino Valley about 3:30 p.m., Friday, July 21.
According to a news release from the Yavapai County Sheriff's Office, a 70-year-old man was being sought regarding a domestic violence incident that occurred earlier in the Paulden area in which he attacked his wife.
Deputies were told that the suspect was armed and had threatened any law enforcement officers responding to the incident, according to the release.
The suspect's vehicle, an older-model blue van, was spotted in Chino Valley and pulled over in the 400 block of Palomino Road.
According to the release, the suspect confronted deputies and officers with a firearm and was shot as a result of the threat.
Officers could be heard over the police scanner saying, "Shots fired, suspect down."
No law enforcement personnel were injured in the confrontation.
A veteran female sheriff's deputy and a male Chino Valley Police officer fired at the suspect who was subsequently transported to Yavapai Regional Medical Center and then flown to a Phoenix hospital, Yavapai County Sheriff Scott Mascher said.
No other details about the suspect's condition were immediately available.
Mascher said the YCSO deputy was wearing a body camera; he did not know if the CVPD officer was. The departments will release the names of the officers following a 48-hour grace period.
The Department of Public Safety will handle the investigation, which is standard procedure for officer-involved shootings in Arizona.
Related Stories
More like this story
SUBMIT FEEDBACK
Click Below to: