Love times three: Prescott Center for the Arts offers three different romantic comedies this summer
Vicki Paris Goodman, For Kudos
Originally Published: July 20, 2017 8:20 p.m.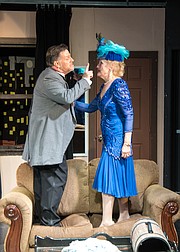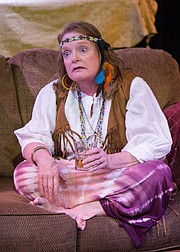 What a summer treat to have three popular romantic comedies simultaneously on tap at Prescott Center for the Arts. The trio of plays, all modern classics, are presented in repertory, alternating throughout the six-week run that ends on Aug. 13. You will even find some of the same excellent actors cast in more than one of the plays.
Paul Epoch masterfully directs Neil Simon's "Plaza Suite," a bittersweet assortment of three very different vignettes, all of which take place in suite 719 of the Plaza Hotel in New York City.
Trudy Forbes portrays the hopeful Karen, who books the suite for her wedding anniversary in a valiant effort to reconnect with her workaholic husband Sam (Richard Hawkes). But Sam makes every office-related excuse in the book to avoid the doomed celebration in favor of making another connection. The role of Sam's much younger secretary fares well in the hands of Alexes Neicamp.
In Act II, John Jenkins plays a rich and successful Hollywood producer whose three failed marriages have him longing for his sweet and innocent childhood love, the proverbial girl he left behind. Sandy Vernon plays the star-struck Muriel, who can't decide whether to stay or go.
Finally, Sandy Vernon and Rob Kaufman depict the distraught parents of bride Mimsey (Alexes Niecamp), who has locked herself in the suite's bathroom, refusing to come out and attend her own wedding. Suffice it to say groom, Borden (Tyler Bond), knows exactly how to get through to Mimsey.
Robert Wright plays the amiable bellhop who symbolizes the sole human connection between the three scenarios.
"Plaza Suite" is a salute to hope, disappointment and possibility. Director Epoch and his terrific cast make all three tales tug at the heartstrings.
The character-driven "Bus Stop" by William Inge is a case study in personalities. Bo (Tazmon Slade), a young cowboy who was orphaned as a youngster, forces Cherie (Kelsey Claire), a nightclub singer he fancies, onto a bus in order to take her to his home in Montana to be his bride. Never mind that the essentially kidnapped Cherie has no intention of marrying the impulse control-challenged cowpoke.
The bus is stranded en route by inclement weather, and the driver and passengers are forced to spend most of the night in a small-town Kansas diner run by owner Grace (Trudy Forbes) and her young waitress Elma (Sophia Grubert).
Among the passengers are ranch hand Virgil (Nathan Wiggins), a guardian of sorts to the undisciplined Bo, and former college professor Dr. Lyman (Jonathan Perpich). The intensity of Dr. Lyman's self-loathing is rivaled only by the strength of his attraction to innocent young Elma. With Elma, however, there is a bit more than meets the eye. She develops a surprising kinship with the thoroughly self-deprecating professor, only to realize that she dare not pursue it.
In the meantime, Grace and bus driver Carl (Rob Kaufman) take their flirtations a bit further. And friendly but formidable Sheriff Will (John Jenkins) does everything he legally can to protect Cherie from Bo.
A perhaps not-so-surprising "twist" ends the story just as the weather lets up.
Each character in this fabulous production of "Bus Stop" is drawn to perfection. Director Catherine Miller Hahn and her winning cast are to be commended for establishing the chemistry that makes every relationship in this provocative play sizzle.
"Same Time Next Year" is playwright Bernard Slade's story of a couple, both happily married to other people, who carry on a 25-year affair by meeting just once each year at the same northern California inn.
George and Doris, portrayed by Ron Lunt and Elizabeth Greene, are shown in six scenes at five-year intervals. Slade's witty dialogue, along with surprising circumstances, keep things interesting as audiences witness the evolution of the two lovers over the years. Everything changes, that is, except their abiding affection for one another.
As in "Plaza Suite," once again Robert Wright plays an endearing bellhop and housekeeper.
"Same Time Next Year" is compelling for the moral questions it raises. The answers aren't always as simple as they might seem. Lyssa Romaine directs the three-person cast who strike all the right notes in this evocative play.
Prescott Center for the Arts' Summer Repertory season will continue with all three plays through
Aug. 13 in the Stage Too theatre, in the alley off Cortez Street between Willis and Sheldon in downtown Prescott. Evening performances are on Thursdays, Fridays and Saturdays at 7:30 p.m.; matinee performances are on Sundays at 2 p.m. Ticket prices for all performances, all ages, are $15. A package discount is available when purchasing tickets for all three plays. For the alternating play schedule and other information, visit the PCA website at pca-az.net or call 928-445-3286.
By Vicki Paris Goodman, for Kudos
More like this story
SUBMIT FEEDBACK
Click Below to: