Originally Published: July 19, 2017 6:02 a.m.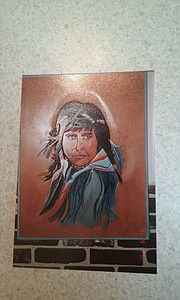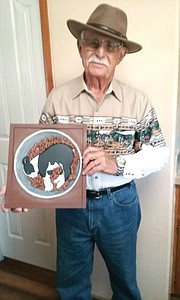 Despite being a small town, Chino Valley has quite a few talented artists.
Robert Winsell is one of them. He creates his art with relief wood carving, which is creating images on a flat piece of wood.
"My artistic ability is a God-given gift. As a child my room was full of my pencil drawings. I did take art classes in high school, and won two gold medal awards from the art institution in Chicago," Winsell said.
Before retiring, Winsell's vocation was in sales where he was able to use his artistic abilities to draw, do layout work, as well as create ads in writing training manuals.
In 1978 Winsell was transferred to California with his wife, Betty, and three children.
While showing his art at Laguna Beach one day he met an artist doing relief wood carving (George Updegraff, a master wood carver).
"He asked me if I was interested in learning the trade, so I spent many weekends being tutored by Mr. Updigraff," Winsell said.
"Now I do relief carving. I draw the subject, carve it, sand it, paint it with acrylic paint, then I seal it. I do my art pieces in all subjects, from southwestern, to horses, dogs, boats, people, etc.," he said.
Each piece takes approximately 20-30 hours to create and sells from $40 to $400 depending on the detailing. His art pieces can be seen and purchased at Skillets in Chino Valley and at Bearizona in Williams.
"My biggest supporter and biggest critic is my wife Betty, who is also an artist. I enjoy my art work hobby because it is a challenge and very relaxing for me," Winsell said.
Anyone interested in having a piece of art work created by Winsell, who works from any photo of pets, or animals etc. can contact him at rwinsell@q.com.
More like this story
SUBMIT FEEDBACK
Click Below to:
This Week's Circulars
To view money-saving ads...