A look at today's firefighting techniques
Allowing wildfires to run their course when appropriate

By
Max Efrein
|
mefrein
Originally Published: July 17, 2017 6:01 a.m.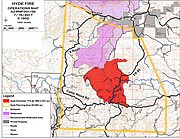 How the Prescott National Forest (PNF) is handling the Hyde Fire in the Camp Wood area of the Chino Valley Ranger District is a prime example of how many fire agencies now approach the fighting of wildfires.
As of Saturday evening, the fire was at 7,831 acres and considered to be exhibiting ideal behavior.
Being there are no immediate values at risk, such as structures, public infrastructure or private property, crews have been managing the fire so as to allow it to run a natural course.
"Contrary to popular misunderstanding, it couldn't be further from the truth that we let it burn," said Pete Gordon, Fuels, Fire and Aviation Staff Officer for PNF.
Rather, PNF has set a planning area of 63,962 acres and are closely monitoring the fire's behavior to ensure that it doesn't extend past that boundary. Everything inside that boundary is fair game to be burned if nature wills it.
"There are people actively engaged – fire trucks, helicopters and hotshots," Gordon said. "They're out there not letting it burn, we're just not putting it out."
There are currently 75 personnel assigned to the Hyde Fire, including an interagency hotshot crew, two fuels modules, one type 6 (small) fire engine, one type 3 (large) fire engine and one type 3 (small) helicopter.
Having a small organization limits the human exposure, assists with cost effectiveness and allows for firefighting resources to be available for other, more serious fires going on throughout the country, Gordon said.
The philosophy of letting wildfires run a natural course started creeping into modern firefighting practices in the late 1960s, Gordon said.
"There was a movement of recognizing that lighting fires have a role and maybe we shouldn't keep putting these things out within the first few hours," he said.
This evolved in the 1980s with what were labeled as prescribed natural fires (PNF). That morphed into the national fire plan in the '90s that spoke to managing wildfires with what was called fire use.
"Now in the late 2000s, early 2010s, we realized we have to stop putting a label on these fires and enhance the ecological role that fire has always played – changing the ecosystem and keeping it healthy," Gordon said.
This includes cleaning the forest floor, clearing out thick vegetation, reintroducing nitrogen into the soil and ridding the forest of insects and diseases that are not good for trees and brush.
It also assists fire agencies in not having to perform prescribed fires in such areas in the name of mitigation, Gordon said.
Current weather conditions is one of the primary reasons PNF can take this approach with the Hyde Fire.
"The fact that we have high humidity, intermittent rain and the rain is most likely going to persist for the next month-and-a-half, the fire behavior is totally different than a month ago when the Goodwin Fire started," Gordon said.
As for how much longer the Hyde Fire may continue, that is anyone's guess.
"The most honest answer is it depends and I have no idea," Gordon said.
If a significant storm system passes over the fire, then it's only going to last as long until that happens.
"So it could be just a couple more days, but if it's two, three or four more weeks, we're prepared for that," Gordon said.
More like this story
SUBMIT FEEDBACK
Click Below to: