Front Door opens for homeless
CCJ, U.S. VETS offer Front Door as a single-entry, open door to finding homes for the homeless

By
Nanci Hutson
|
HutsonNanci
Originally Published: July 17, 2017 6 a.m.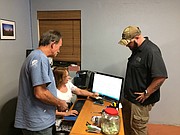 A couple months ago, John Rosencrans lost everything he owned to a house fire in Kingman, Arizona.
Homeless with nowhere to go, the 53-year-old headed to Prescott where he has children and grandchildren, and prospective employment.
He showed up at the Coalition for Compassion and Justice Stagger Straight shelter on Madison Avenue. He was quickly led to the Front Door, a new project housed within the CCJ shelter facilities where the shelter's homeless guests can be screened so as to be quickly connected to available housing options.
The Front Door is a collaboration between CCJ and U.S. VETS Initiative, with cooperation from other local agencies, to assure the homeless have a single point of entry that can lead them to affordable places to live as well as connect them with other related services. In a one-time, 20- to 30-minute screening, the homeless individual is asked to fill out a computerized form with their particulars that with their permission can be shared with other social service agencies.
U.S. VETS Initiative Development and Activities Director Matthew Phillips said this effort cuts down on "closed doors, wrong doors" and limits how often the homeless are asked questions they prefer not to answer.
Built on a similar program in Flagstaff that opened in March, U.S. VETS Initiative Operations Manager Skye Biasetti said the focus is on eliminating the hassle for the homeless who in the past had to fill out forms to get on waiting lists at agencies all over town. For those without transportation, or just patience for bureaucracy, the Front Door located next to the CCJ shelter' dining room makes things much simpler.
"I came in, did one screening, and with one phone call was able to make a lease arrangement," said Rosencrans, who moved in three weeks after he arrived and now works in maintenance at the Hotel Vendome.
"I have nothing but good to report," Rosencrans said of this project.
The Front Door is supervised by U.S. VETS Initiative Outreach Specialist Tim Vree and CCJ advocate Joanne Liszewski through federal grant funds.
Liszewski is able to speak to the value of this project from her personal journey.
"When I first became homeless in Prescott ¬a year ago, there were no services for the homeless," Liszewski said.
Legally blind, Liszewski was not only was up against the lack of affordable housing options in the area, but also trying to arrange for disability services and employment. Other homeless people painted a bleak picture of what to expect.
"I didn't want to believe them," Liszewski said of those who said it could be years before she found a place to live. "So I pursued all resources. And they were right. There really wasn't anything."
She finally connected with CCJ. Not only did she find permanent housing, but she and her husband found jobs with the agency.
"When you're homeless, and on foot, and going from agency to agency with all your belongings, you just give up," Liszewski said. "You can't keep chasing things that don't come to fruition."
Biasetti agrees.
With the Front Door project, the homeless need to make just one stop.
The Front Door is not a hand-out, though. The individuals still need to do their own footwork, but they have people able to advocate for them and assist them at every step of the way, the supervisors said.
"People who are told "No" over and over again need help finding motivation again. They have low self-esteem, and they've lost hope," Biasetti said.
CCJ has done a great job building trust with the homeless population, Vrees said. That connection is making it easier to convince anyone who walks through the shelter's door to go just a step further to the Front Door office.
"This has given people a safe place to be," Vrees said.
In the two months since the Front Door opened, Vrees said they have screened 100 people and found housing for 25. This has also enabled officials to better track true homeless numbers, ones used to allocate funding to combat homelessness in the region, he said.
"It's a chain reaction," Rosencrans said of how help begets help.
"It's community," Vrees concluded.
More like this story
SUBMIT FEEDBACK
Click Below to: