Friday Catchall: Wildlife, developers cross paths; mini-tumbleweeds?

Originally Published: July 14, 2017 6:05 a.m.
The Friday Catchall:
• RANCH – You may call it self-serving, but really it is where wildlife and nature cross paths with developers.
As we reported in The Daily Courier on Wednesday, the Navajo Nation may buy part of the Yavapai Ranch for about $60 million — or at least that's the asking price. The purchase would be for about 17 percent of the 100,000-acre ranch, which is in northwest Yavapai County.
To give you an idea of where this ranch is, Williamson Valley Road starts at Iron Springs Road. City limits for Prescott end at about milemarker 4, just beyond the intersection with Pioneer Parkway. Chino Outer Loop intersects with the road at about milemarker 9. The turnoff for the main entrance to Yavapai Ranch is at about milemarker 56.
It is a ranch I measure in miles, not acres.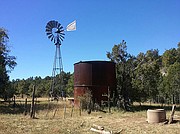 As for the land in question, it is the west, upper side of the ranch that the Navajo tribe wants for cattle and water, they told us.
I have hunted there on many occasions. It is a place where you'd imagine seeing the Marlboro Man riding up on horseback at any moment.
Cattle, deer, elk, bear, mountain lion, javelina … a host of critters inhabit the place, where you make sure you close the gates behind you.
As Courier reader Nigel Reynolds wrote to me Thursday, "Few people even know where it is, and fewer have actually been there."
As for owner and manager Fred Ruskin's motives, I think we're all confused. This is the man who had the chance years ago to trade sections of land with the Forest Service, approved by Congress, … and he backed out.
What has surfaced at different times were proposals for 25,000 homes, and a wind farm akin to what you see while driving through southern California, among other ideas. This also is the same family that received approval from the Board of Supervisors more recently to move ahead on developing some of the home sites — and were not held to the requirement of improving Williamson Valley Road.
I still think that was a sin of sorts, as I wrote years ago.
Another Indian tribe reportedly already owns four sections of the checkerboard, Reynolds reminded me, close to the Juniper Mesa Wilderness Area, which is between part of the Yavapai and the ORO Ranch. Very rugged country.
I agree with Reynolds, who stated he hopes the Navajos buy some of the ranch and then work with Prescott National Forest to consolidate part of the checkerboard.
Yet, I do feel slighted that a place where such wonderful animals roam – around places with awesome names such as Gobbler Knob, New Water, Cowboy Tank, Haystack, Happy Camp, and Jack's Tank – could be lost to development, or even only a new owner's locked gate.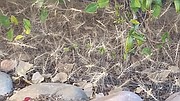 • MINI-TUMBLEWEEDS – I am sure you've seen them, what I call mini-tumbleweeds. They're the seed portion of some grasses around here. One of the little things fits in the palm of my hand.
I have them in my yard and about a dozen are piled in my wife's garden. But that's nothing.
A lady from Prescott Valley approached me recently with a dilemma. Her yard was buried in them. If I have 12, she has thousands blowing into her yard from a neighboring field.
She tells me the town has no code against this. They are organic, after all.
Just imagine, though, having a pile of them 5 feet high and dozens of feet around.
What would you do? Can't burn them. Vacuum them? Naw, that wouldn't work. Bag 'em? Maybe if you can catch them. Certainly not chop them up, like I've heard some people do.
Seriously, send me an email — twieds@prescottaz.com — of advice that I can send to this lady.
Thanks.
• PICK OF THE WEEK – (Proving there's always something good to do in the Prescott area that's cheap or free): Check out the Howlin' at the Highlands Concert Series, Sunday from 5 to 7:30 p.m., put on by the Prescott Jazz Summit and hosted by the Highlands Center for Natural History, 1375 S. Walker Road. Performances by Dennis Rowland and the Jazz Summit All-Star Combo.
Enjoy!
Follow Tim Wiederaenders on Twitter @TWieds_editor. Reach him at 928-445-3333 ext. 2032, or twieds@prescottaz.com.
More like this story
SUBMIT FEEDBACK
Click Below to:
This Week's Circulars
To view money-saving ads...