3 timeless romantic comedies take to PCA's Stage Too
Originally Published: July 13, 2017 8:39 p.m.
Updated as of Sunday, July 16, 2017 6:29 AM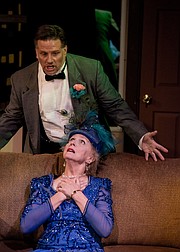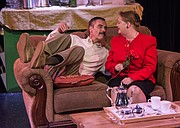 Once again this year, the Prescott Center for the Arts will host three shows at its Stage Too black-box venue in the popular Summer Repertory format.
Summer Rep is a time-honored theatre tradition that usually consists of several plays, put on by a resident company, with several of the same actors appearing in all the shows, and with similar sets and costumes.
Last summer, every performance of every show sold out, so this time around, PCA has added Thursday night performances.
As was the case with last year's premier season, the shows are scheduled to make it possible for an audience to see all the shows in one weekend or to space them out over several weeks.
This year's bill includes "Bus Stop," by William Inge, directed by Catherine Miller Hahn; "Same Time Next Year," by Bernard Slade, directed by newcomer Lyssa Romaine; and "Plaza Suite," by Neil Simon, and directed by Paul Epoch.
"Plaza Suite" is made up of three one-act plays combined, and each one takes place in room 719 of New York's Plaza Hotel. This show marks veteran PCA director Epoch's third effort at a Neil Simon play.
Director Hahn said that, although "Bus Stop" was made into a well-known film starring Marilyn Monroe, William Inge was unhappy with it.
"When they cast her in the movie, he was very disappointed," Hahn said, "because Hollywood exploited her sexuality, and that wasn't the purpose of the play.
"We are doing the play, versus the film," she added, with Sophia Grubert in the Elma Duckworth role.
"Same Time Next Year" is the story of a man and woman (Ron Lunt, Elizabeth Greene), each married to someone else, who meet once a year to continue a two-decade affair. Romaine directs, in her first outing since completing a PCA mentorship program under Hahn.
The Prescott Center for the Arts Summer Repertory series shows at Stage Too, accessible by the alley immediately behind the main PCA building, 208 N. Marina St. Tickets are $15 for each show with a discount if you buy seats for all three.
Schedule: "Bus Stop," July 20, 21, 29 and Aug. 10 at 7:30 p.m.; Aug. 6, 2 p.m.; "Same Time Next Year," July 13, 14, 22, Aug. 3, 4 and 12 at 7:30 p.m.; July 30 at 2p.m.; "Plaza Suite," July 15, 27, 28, and Aug .13 at 7:30 p.m.; July 24 and Aug. 13 at 2 p.m.
Tickets are available online at pca-az.net, by phone at 928-445-3286, or at the box office.
More like this story
SUBMIT FEEDBACK
Click Below to: