People & Places: Meet sculptor Corey Ellis
Originally Published: July 12, 2017 6:03 a.m.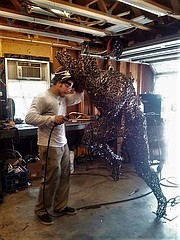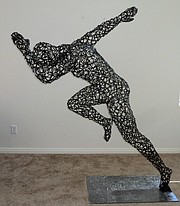 Researchers say that sculpture began in the stone age. The earliest sculptural forms of birds and animals were found 35,000 BCE in some caves in Germany.
Corey Ellis, who moved here earlier in the year with his family (wife Charity, two children and one on the way), is an outstanding sculptor.
"I was an electrical contractor until about 2012 when I got laid off. I told myself I was going to get into another field. I have also been into cars and motorcycles all my life so I had the tools to do a lot of things. I saw some sculptors from the 60s, which gave me the idea to weld square-headed nails together to create three-dimensional works of art," Ellis said.
"The first few pieces I made were two-dimensional and simple wall hangings. I put them on Ebay and within one day an art gallery bought all of them," he added.
Ellis now also sculpts life-sized art pieces of the human body and animals -- all from welding square nails together -- besides the wall hangings he creates.
"At this time in my art career, I have created approximately 800 sculptures. The majority of my art is bought from people in Europe. But I must say I wouldn't be where I am today without the support of my wife and children. My son Wyatt (age 11) is trying to follow in my footsteps and is right beside me when we are building cars, welding, etc. He already knows how to weld and for Father's Day he welded up my company logo and did it entirely out of nails," Ellis said.
Ellis shared that he has always been able to see things three-dimensionally in his mind and the ability to replicate those things.
A full-bodied life-sized art piece takes him about three weeks to complete. His art pieces range in price from $300 to $15,000.
"My thoughts when it comes to art, is that it has to move you and have a 'wow' factor.
The enjoyment for me is thinking of an idea, finishing the piece and seeing the amazement on my clients faces when they see it," he said.
"Every one of my pieces is signed and dated and sold with a certificate of authenticity."
The majority of Ellis' artwork can be viewed by doing a Google image search Corey Ellis Sculptor.
To contact Ellis, email info@coreyellisart.com.
SUBMIT FEEDBACK
Click Below to:
More like this story