10,000 New Homes? Deep Well Ranch project could bring thousands to Prescott
Developers say project would be 'economic engine' for the city

By
Cindy Barks
|
Cindy_Barks
Originally Published: July 12, 2017 6:01 a.m.
Document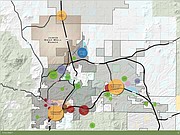 A new master-planned community that could bring more than 10,000 new homes to Prescott over the next several decades got its first public review this week.
During a study session on Tuesday, July 11, the Prescott City Council heard a presentation on a master plan for the 1,800-acre Deep Well Ranch project, a mixed-use development planned on vacant ranchland along Highway 89 between Prescott and Chino Valley.
Developer Jim Chamberlain told the council that Chamberlain Development had been chosen to represent the James family, owners of the Deep Well Ranch.
"The commercial economic engine of things we're going to bring is significant – maybe never before seen in the City of Prescott," Chamberlain told the council.
New homes will be a significant component of that. While developers say the land's current zoning would allow for as many as 15,800 homes, their plans involve about 10,500 homes.
That means that – based on Prescott's current average of 2.1 occupants per household – the Deep Well project could one day add upwards of 22,000 residents to the city's current 40,000 population.
Chamberlain emphasized, however, that the process would be gradual over the coming decades. He said build-out could be 35 years or more in the future.
And officials pointed out that multiple steps are still required before the City Council would consider final approval.
This week's presentation was the first of what is expected to be a series of public meetings in coming months. Next up is an informational open-house meeting at 1 p.m. Thursday, July 13, at the Centennial Center, 1989 Wineglass Drive, Prescott. Then, another open house will take place at 5:30 p.m. Tuesday, July 18, at Prescott City Hall, 201 S. Cortez St.
Those meetings will set the stage for a progression of reviews by the city's Planning and Zoning Commission, Unified Development Code Committee, and City Council.
Council decisions on various actions – a development agreement; rezonings; a text change to the city's Specially Planned Communities (SPC) zoning; and a comprehensive sign plan – are still likely several months away, say officials.
Meanwhile, developers and representatives of the planning and entitlement firm Espiritu Loci will be meeting with the public to present the details of the project.
Espiritu Loci's Trevor Barger pointed out that the Deep Well project has been in the works for years. In earlier actions, for instance, the City Council agreed to annex the ranchland into Prescott city limits.
In response to a question from local resident Leslie Hoy about the amount of water allocation the project would require, Prescott Regional Programs Director Craig McConnell said the project has a water allocation as a part of an earlier water settlement agreement. "Deep Well Ranch has, vested, approximately 950 acre-feet of water as we stand here today," McConnell said.
And referring to the long-discussed Big Chino Water Ranch that is planned to import groundwater from city-owned ranchland northwest of Paulden, McConnell added: "If and when the Big Chino comes on line, (the Deep Well's) quantity will just about double."
Along with the plans for new homes, Barger noted that the Deep Well project also would include a number of civic improvements, (such as fire stations and schools), commercial development, open space, and a wildlife corridor.
Based on earlier city approval, the first phase of the project – Antelope Crossing, located near the intersection of Highway 89 and Willow Creek Road – is already underway, and Barger said lots would be available for sale by about January 2018.
While council members were mostly complimentary of the project, Mayor Harry Oberg had a number of questions for developers about the impacts the project might have on the nearby Prescott Airport.
"I know that some of the airport users are concerned that this development could cause certain restrictions on the airport, and (it would) not be as operational as it has been in the past," Oberg said.
Developers emphasized that the James family is committed to protecting the airport, and that the project's plans include open-space buffers at the ends of the runway. In addition, they said, prospective home buyers would be informed of the situation, and would be required to sign "avigation easements" to that effect.
Local resident Sandra Smith voiced support for continued protection of the airport. "This open space, especially near the runways, is outstanding," she said. "Leave the space open; let them have that safe buffer for everyone's sake – not just the residents with noise, but the planes, the pilots and their passengers."
Barger said pending retail development within the development could include a gas station near the intersection of Willow Creek Road and Highway 89, a grocery store, and a regional big-box development.
Follow Cindy Barks on Twitter @Cindy_Barks. Reach her at 928-445-3333, ext. 2034, or cbarks@prescottaz.com.
More like this story
SUBMIT FEEDBACK
Click Below to: