Clarkdale man arrested for dragging his dog behind truck
Originally Published: July 10, 2017 6:13 a.m.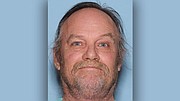 Cottonwood, Ariz. – A Clarkdale man has been arrested after he was seen dragging a dog tied to the back of his truck, police said.
On July 8, 2017 at approximately 5:15 p.m. officers were called to the area of N. 10th Street and Main Street after witnesses reported seeing a small dog being dragged behind a vehicle.
According to a press release, Cottonwood Police officers contacted 52-year-old Clarkdale resident Destry Lynn McClure and discovered Leia, his 4-year-old Chihuahua, had been dragged behind his truck from Riverfront Park, which is approximately half a mile.
Leia was immediately taken to a local veterinary office where it appears most of her injuries consist of road rash. The initial assessment doesn't indicate internal injuries or broken bones. She will remain under veterinary care for the next 24 to 48 hours.
Officers on scene suspected McClure may have been under the influence of alcohol and possibly prescription medication.
McClure was booked into the Yavapai County Detention Center on charges of animal cruelty (felony) and driving under the influence (misdemeanor). Authorities said additional charges are possible pending McClure's blood test results.
"I'm amazed little Leia survived being dragged on pavement for approximately half a mile let alone appears to only have suffered road rash injuries," said Cottonwood Police Spokesperson Sergeant Monica Kuhlt. "I also want to thank the witnesses who saw this and acted so quickly."
During the interview with police McClure told officers he "forgot she was back there."
More like this story
SUBMIT FEEDBACK
Click Below to: