By
Nanci Hutson
|
HutsonNanci
Originally Published: July 7, 2017 6 a.m.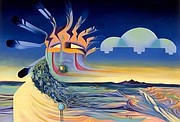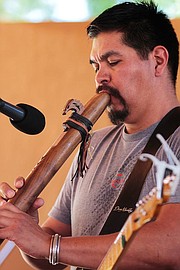 In the shaded gardens at the Sharlot Hall Museum off West Gurley Street on July 8 and 9, some 110 Native American artists will be exhibiting, and selling, their original artwork – be it turquoise jewelry, handwoven blankets, bronze sculptures, wood-carved flutes, oil paintings and a whole lot more.
This is the 20th anniversary of the Prescott Indian Market, a celebration of Native American artisans. The featured juried artist this year is Navajo painter Virgil Nez, whose impressionistic "Power of the West" painting is featured on posters and T-shirts.
The market will be open on Saturday from 9 a.m. to 5 p.m. and on Sunday from 9 a.m. to 4 p.m. at a daily admission price of $10 for adults and $8 for members. The event is free to youth 17 and younger.
With very specific rules and requirements by a seven-panel Native American jury of artists, the bulk of the market's participants are selling original, handcrafted work; reproductions are primarily such things as greeting cards, T-shirts and reproductions of original sculptures.
The whole idea behind this market is to showcase the Native American heritage and culture through artistry. The market offers an opportunity for residents and tourists alike to see pieces up close even as they talk with the artists about the inspiration and meaning of each piece of artwork, such as the symbols engraved into a pottery bowl or a woven blanket. Each painting, necklace, wood-carved doll, or hand-sewn clothing tells a story not only for the buyer but for generations to come.
As this is a juried show with Native American artists selecting those who can be part of the market, Sharlot Hall media and marketing manager Ken Leja assures the artwork is the best of the best. There are people who attend this market year after year because of the high-caliber artisans who are offered a chance to have their own booth.
"This is Native Americans judging themselves; they have identified those who represent their culture. This is who they want the public to recognize as good artists. There is a quality stamp just for them (the artists) to get through the door," Leja said. "Then you and me have the chance to see something really authentic. Want to see silversmithing? It's going to be there."
Beyond the extraordinary art on display, the market has evolved into a family-friendly place where adults, teens and young children can spend a pleasant afternoon learning more about Native American culture through craft demonstrations, food, and games. No one will want to miss a taste of traditional fry bread or watch Native American dancers and perform ritual movements and music that are sure to leave their audiences in awe.
Artisans will throughout the day be offering demonstrations on basketry, rug weaving, glass blowing, rock art and Katsina wood-carved dolls that are representations of the Kasinam, the spirit messengers of the universe. New this year is the invitation to the youth attenders to take part in the acrylic painting of what will be an "evolving image" on a four-foot square canvas that will emerge over the course of the two-day festival.
The four acres of museum grounds are also their own draw, with visitors welcome to rock on the front porch of the first governor's mansion or tour a frontier-era newspaper office or mercantile shop. Leja said there will be living history exhibits, and he doesn't want anyone to miss the chance to see the museum's newest Prescott culture exhibit that just opened last weekend.
The last exhibit located in the east wing of the Helen Lawler Exhibit Center has been described as "Smithsonian quality," he said.
Throughout its 20-year history, Leja said this market has been "without a doubt one of the premier destinations for quality and juried Indian art."
For many of the Native American artists, this marketplace is a "family affair," with mothers and fathers handing down their booths to their sons and daughters, Leja said. The organizers were only able to add 20 new artists to the event this year.
The art is "absolutely spectacular," Leja said.
On the weekend after Fourth of July, Leja said this market is a must-visit.
"It's a special place to be," Leja said. "The native American art is superb … absolutely spectacular. I'm looking forward to it, and I work here."
More like this story
SUBMIT FEEDBACK
Click Below to:
This Week's Circulars
To view money-saving ads...