Discovery of eclipsing binary star takes time
Mayer man finds pulsating star from backyard observatory

Originally Published: July 6, 2017 6:02 a.m.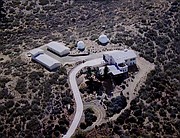 Gary Frey's first telescope, at age 10, was one he built from plans out of Popular Mechanics magazine. He ground his first 8-inch telescope at 14. He's come a long way since then.
The amateur astronomer works out of two observatories in his Mayer backyard. One is for observing, the other for remote control. Having experienced the cold and mosquitoes of Michigan, he decided he wasn't going to sit outside with a telescope anymore.
Tidbit of information shared by Gary Frey:
Our Milky Way Galaxy contains an estimated 300 billion stars and 150 billion planets.
Our galaxy is 100,000 to 180,000 light years in diameter, and our sun is located about 26,000 light years from the center of our galaxy.
He can remotely manage the telescopes through six computers — three in the observatory, three running in real time, some with video and still cameras. One computer might take photos of star fields, one has a wide-field finder and charge coupled device camera, and one contains star charts from the Hubble telescope. A laptop connects to the U.S. Naval observatory for accurate times — to one-half a quarter second, he said.
All this equipment led Frey to a discovery in the night sky in the summer of 2015 — the identification of an unknown pulsating star in the constellation Hercules.
Then it took one-and-a-half years for Frey's discovery to be officially recognized by the American Association of Variable Star Observers.
During that time, from July 2015 to January 2017, he tracked what is now known as 000-BMD-735, a pulsating star in the constellation Hercules.
"The discovery of this pulsating star was by accident after analyzing 59,583 stars," Frey, 77, states in a 10-page report on his process.
That first night, he took 120 images over a five-hour period of an eclipsing star and a nearby check star, and placed the results into a spreadsheet. With eclipsing stars, when one passes in front of another, the brightness of the star behind decreases, similar to a total eclipse of the sun by the moon.
"The light curve of the eclipsing binary star appeared normal, but one of the stars in the image changed brightness in an unusual way," he said. Also, when both stars are stable, the graph shows a straight line. Frey noticed an unusual light curve with the check star.
The changes in brightness were small, not always consistent, and occurred relatively quickly, indicating the star was a pulsating star, one whose size gets bigger, then shrinks, over and over.
"An example of the star I discovered would be if our sun, whose diameter is on average about 864,000 miles, would get about 10 percent larger, to about 950,000 miles in diameter, then shrink back down to its original size in 1.5 hours – or 1 6 times per day," he said, adding that, of course, a 10 percent increase would destroy all life on Earth.
The star is about 45 light years away (270 trillion miles) or about 3 million times the distance from the Earth to the sun. It was first spotted by Sebastion Otero, but the data provided by Frey identified it as a pulsating star.
He asked Brian Skiff at the Lowell Observatory in Flagstaff to observe the star over a six-hour period to confirm the results. The plot of Skiff's light curve revealed an identical path.
In all, Frey took 65,000 images, usually setting his camera for 120-second exposures taken every 150 seconds.
Once someone makes a possible discovery in the astronomy world, the data, observations, conclusions, graphs and research are sent to the AAVSO for review. If the discovery is original and accurate, the AAVSO will issue a certificate of discovery.
"It's a bit unusual. Amateur astronomers don't discover a whole lot," Frey said.
Retired from his work as an engineer at Chrysler, he now works on classic cars, plays pickleball, and is a member of the Prescott Astronomy Club. He encourages anyone with even the slightest interest, to join members at meetings on the first Wednesday of the month at Embry-Riddle Aeronautical University.
More like this story
SUBMIT FEEDBACK
Click Below to: