Arcosanti's annual 'Italian Night' brings food and music together
Originally Published: July 6, 2017 9 p.m.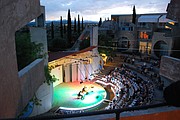 Essentials
Where: Arcosanti, AZ (Near Cordes Junction)
When: Saturday, July 8, at 5 p.m.
Admission: $40 Dinner and Concert, $20 Concert Only and $10 Students
Contact: 928-632-6217
Online: https://arcosanti.org/node/16047
If you love Italian food and music, you're in for a treat at Arcosanti's Italian Night event on July 8.
The well-known "urban laboratory," founded in the 1970s by Paolo Soleri, is the venue for the evening. This Arcosanti tradition celebrates the heritage of Soleri, who was born in Torino, Italy, and features a special meal served outdoors under the Arcosanti Vaults in the setting of Italian cypress and olive trees.
One of the best-loved features of the annual feast is still the Arcosanti tradition of serving pasta from a wheelbarrow. Soleri himself served the massive pile of pasta for years, until his death in 2013.
There will be a 5 p.m. tour of the grounds, and dinner follows at 6 p.m.
The menu includes melon with prosciutto; the wheelbarrow pasta with fresh basil pesto; margherita chicken or vegetable strata; fresh green beans; mixed green salad with Paolo's own dressing; cibatta; and lemon ice.
Then, at 7 p.m., the concert begins. Vocalist Melina Kalomas and pianist Sonya Kumiko Lee perform arias by Puccini and Catalani, as well as music by Rossini, Mendelssohn, and Liszt.
Lee is a renowned pianist, having played throughout the U.S. and abroad, in concert at places as diverse as Lincoln Center and Carnegie Hall, and in musical genres from classical to rock, when she played on an album with the band Weezer.
Kalomas is both an actress and a vocalist. She's performed from coast to coast, from the Pantages Theatre in Los Angeles to Boston's Opera House. Kalomas has been seen in several national musical theater tours, such as "Beauty and the Beast" and "Les Misérables."
More like this story
SUBMIT FEEDBACK
Click Below to: