Flying drones impact Goodwin Fire operations; 2nd incident happened Tuesday
Originally Published: July 4, 2017 3:04 p.m.
Updated as of Wednesday, July 5, 2017 6:28 AM
Two separate incidents involving hobbyists flying drones hindered operations on the Goodwin Fire, according to the Prescott National Forest.
The latest drone sighting occurred today, July 4, when a helicopter flying over the fire was forced to return the airport for safety reasons – after a drone was spotted in the area. The Yavapai County Sheriff's Office has been unable to locate a drone or drone operator at this time.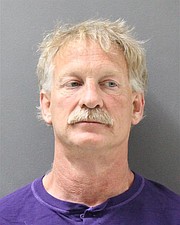 On June 30, YCSO arrested a hobbyist for flying a drone near the Goodwin Fire. Gene Alan Carpenter, a 54-year-old resident of Prescott Valley, was arrested and charged with 14 counts of endangerment, all felonies, and a count of unlawful operation of an unmanned aircraft, which is a misdemeanor.
Forest Service officials continue to emphasize that flying drones over or in close proximity to wildfires is illegal, endangers aviators as well as crews on the ground, and slows operations which potentially could result in the fire increasing in size.

Flying a drone near a wildfire is, in fact, breaking the law. The U.S. Code of Federal Regulations – 43 CFR 9212.1(f) – indicates that it is illegal to "resist or interfere with the efforts of firefighter(s) to extinguish a fire."
Drone operators also need to be aware that the Forest Service generally requests a Temporary Flight Restriction (TFR) from the Federal Aviation Administration on all fires when the Forest Service has aircraft responding, according to the news release. A TFR is a certain area of airspace where air travel is limited because of a temporary hazardous condition, such as a wildfire. The rules and regulations regarding which aircraft can enter a TFR can be found in 14 CFR 91.137(a)(2).
All unauthorized unmanned aircraft systems flights over wildfires on National Forest System lands will be reported to the FAA and law enforcement agencies. Drone operators determined to have endangered manned aircraft or people on the ground and/or interfered with wildfire suppression may be subject to civil penalties, including fines of up to $25,000, and potentially criminal prosecution.
With regard to aerial firefighting operations, all authorized aircraft on an incident maintain radio communication with each other to safely coordinate their missions, but aerial firefighting flight crews have no way to communicate with drone operators.
Information from Prescott National Forest
Related Stories
SUBMIT FEEDBACK
Click Below to:
More like this story