Originally Published: July 3, 2017 6:02 a.m.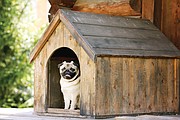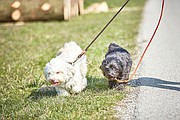 Editor's Note — The Daily Courier regularly receives complaints about dog barking, dogs relieving themselves on the plaza's grass, and being walked without a leash. On Sunday, July 2, no fewer than six calls were heard on the police scanner of officers responding to complaints of dogs "at large."
If you have a dog, there's a lot to know, from what to feed him, to getting him the proper veterinary care.
But there's even more, and a couple of local Animal Control Officers said they are things that pet owners ought not to have to be reminded about.
"All dogs are required by the town and state to be on a 6-foot leash when not confined or on its own property," Prescott Valley Animal Control Officer James Risinger said.
"Dropping the leash while playing at the park is not allowed," he said, and at that point, your dog is considered "at large," and you can be cited.
The only parks where dogs are allowed off-leash are dog parks. In Prescott Valley, that's the dog park at the Prescott Valley Recreation Area; in Prescott, it is the Willow Creek Beneful Dream Dog Park on Willow Creek Road; and, in Chino Valley, a dog park is at Road 1 East and Perkinsville Road.
In Chino Valley, "our current ordinance does not allow you to tie your dog out any time, unless you are physically present with the dog," Chino Valley Police Lt. Vince Schaan said.
"All dogs are required by law, both state and town, to be current on their rabies vaccination," Risinger said. "All dogs must be vaccinated by three months of age and re-immunized every 12 months to three years depending on the vaccination period, for the life of the dog."
And, every dog must to be licensed in the city or town in which it lives.
Risinger added that "excessive dog barking and lead the dog owner to receiving a ticket of disturbing the peace. Unjustified barking for over five minutes is considered excessive" in Prescott Valley.
Care extends to an everyday walk too. "If you are walking your dog on a hot day, please keep in mind that the pads of a dog's feet can burn," said Shannon Gray, Prescott Animal Control officer. "Try to find grassy or shaded areas to walk. Also, limit your walks to the early morning or the evening hours when it is not so hot out."
Gray advised people to walk where water will be readily available for your dog, or be sure to bring water with you for you and your dog.
"If your dog is left outside and has a dog house for shelter, be sure to place it in an area where the opening won't be in direct sunlight. Put the dog house near a shade tree if possible, or on a porch," Gray said.
That walk also requires policing after the dog. "Please pick up after your dog," she said. This applies not only in public — and it is the law — but at home as well. "At your home (waste) is required to be picked up every seven days."
Dogs aren't born knowing what us humans want them to learn, Gray said. "We have to teach them. Please be patient and take the time to train your dog or find a dog trainer to help you. This will ensure a better relationship with your dog for years to come.
"Animals are a responsibility. They require food, water, shelter, medical care, and most of all ... love," she added.
More like this story
SUBMIT FEEDBACK
Click Below to:
This Week's Circulars
To view money-saving ads...