Wildland fire handled quickly thanks to multi-agency response
Originally Published: July 2, 2017 7:13 p.m.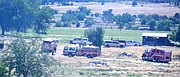 A speedy, multi-agency response prevented a wildfire near Granite Dells Estates from getting out of hand Sunday afternoon, according to Prescott Fire Division Chief and Fire Marshal Don Devendorf.
At around 2 p.m. Sunday, July 2, dispatchers received multiple 911 calls reporting a grass and brush fire in the area of Granite Dells Estates and old Highway 89A, Devendorf said. A Level II wildland response, consisting of two engine companies from the Prescott Fire Department and the Central Arizona Fire and Medical Authority, a brush truck, a Battalion Chief, Prescott PD, and other support personnel were dispatched.
Due the heightened fire danger and fire behavior in the area, a water tender and multiple units from the Prescott National Forest and the Arizona Department of Forestry and Fire Management were added to the response. The Forest Service also offered a helicopter if needed, he said.
First arriving units found a fire, in grass and brush, on ranch land, approaching new homes in the Granite Dells Estates subdivision. Hundreds of feet of fire hose were quickly deployed in order to control the fire front and keep the homes safe.
The one acre-plus fire was scouted and called "out" in about 90 minutes. There were no injuries and the only damage was to the wildland.
"The fire was knocked down quickly thanks to the multi-agency rapid response," Devendorf said.
Fire restrictions
He reminds residents that the City of Prescott, the area protected by the Central Arizona Fire and Medical Authority, and the Prescott National Forest are now under Stage II fire restrictions. In Prescott and the area served by the Central Arizona Fire and Medical Authority this means no spark or ember producing fire; gas grills are still allowed. No cutting/grinding/welding/chainsaw use is allowed without a special permit issued by the fire departments. Smoking is allowed only in designated smoking areas and in enclosed vehicles.
"We will be working with our cooperators to determine when we can come out of Stage II restrictions, probably when the monsoon season starts," Devendorf said.
Local residents and visitors need to be ultra-cautious when it comes to outdoor activities, trailer chains that are too long and drag the ground, vehicle exhaust systems that can come in contact with grasses when they are driven over tall grass, underinflated tires that can fail and cause sparks when the steel vehicle rim comes in contact with the pavement, vehicle brakes in need of service that could have metal to metal contact or overheat causing a fire, chainsaws that can hit nails and rocks when being used, and discarding smoking materials in a reckless manner.
More like this story
SUBMIT FEEDBACK
Click Below to: