Man arrested for drone intrusion over Goodwin Fire
Planes were grounded because of intrusion of airspace
Originally Published: July 1, 2017 2 p.m.
Updated as of Saturday, July 1, 2017 2:57 PM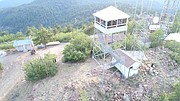 Yavapai County Sheriff's Office says they've made an arrest in the case of a drone that forced aircrews fighting the Goodwin Fire to be grounded.
Gene Alan Carpenter, a 54-year-old resident of Prescott Valley, was arrested and charged with 14 counts of endangerment, all felonies, and a count of unlawful operation of an unmanned aircraft, which is a misdemeanor.
A news release from YCSO said that on Wednesday, June 28, a drone began circling one of the airplanes that was battling the Goodwin Fire. Because of that intrusion, the plane left the area, leaving ground crews unprotected. Those ground crews had to disengage from fighting the fire and all aircraft were grounded for nearly an hour.
Based on witness information, drone descriptions, and photos obtained from Carpenter's website showing drone views of the Goodwin Fire, deputies began searching for him. An off-duty YCSO deputy spotted Carpenter's white van on Willow Creek Road in Prescott. Carpenter was arrested and his drone was seized.
He has been booked at the Camp Verde Detention Center and remains in custody. Bond has not been set. Detectives plan to meet with federal officials on Monday to discuss additional charges, the release said.
Related Stories
More like this story
SUBMIT FEEDBACK
Click Below to: