Video shows hotshots rescuing 2 fawns from Goodwin Fire
Originally Published: July 1, 2017 11:24 p.m.
Updated as of Sunday, July 2, 2017 5:58 PM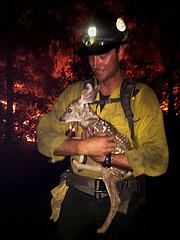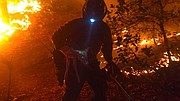 Two Flagstaff Hotshots, while fighting the Goodwin Fire south of Prescott on Friday, made a discovery that saved lives — of the four-legged variety: two fawns.
Video and photos shared on the Prescott National Park Facebook page showed two members of the Flagstaff Hotshots helping two fawns escape ahead of an advancing line of fire, which has reached 27,327 acres and 53 percent containment.
Updates from the Facebook page stated that the two Hotshots helped the deer away from the fire line and released them to a safe area to reunite with their mother.
"#SmokeyBear would be very, very happy," the site states.
Later, another crew found that one of the fawns seemed disoriented and was not doing well. This crew called the Arizona Game and Fish Department and stayed with the fawns until wildlife managers arrived.
The Goodwin Fire fawns have been transported to a licensed wildlife rehabilitation facility, a Sunday update states. If they respond to treatment they will ultimately be released when old enough to make the transition back to a life in the wild.
While Game and Fish encourages people not to pick up baby wildlife, under these extenuating circumstances the firefighters were moving the fawns out of harm's way.
Related Stories
More like this story
SUBMIT FEEDBACK
Click Below to:
This Week's Circulars
To view money-saving ads...