Reading rocks for PUSD students thanks to volunteer tutors

By
Nanci Hutson
|
HutsonNanci
Originally Published: January 31, 2017 6 a.m.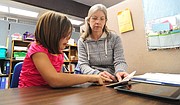 PRESCOTT — Inside a lab-style room at Taylor Hicks Elementary school, a group of volunteers are spending one-on-one time working with students to help them expand their vocabulary, read stories and spell common words.
They do it with flash cards, paperback books, and hand-held computer tablets. The children are eager to please, and as they strive to succeed these tutors cheer their progress. Many of the tutors rely on word games, rhyming lessons and interactive computer tablets to engage the 29 children now enrolled.
"It's pretty awesome when you see a student over time," said reading interventionist Karen Benson, who has a cadre of 15 trained volunteers able to work with students in 40-minute intervals about three times a week. Some show signs of dyslexia or have other processing issues that impede their reading abilities. "We're educating as we go along."
All of the Prescott Unified School District elementary schools have reading intervention programs, but Benson's has extended its reach with her extensive training of some 15 volunteers able to work one-on-one with these children so they do not fall too far behind their peers. Benson relies on the Barton reading program, one that offers instructions on how to identify children who may display signs of dyslexia though there is not now an official special education diagnosis for such conditions.
The success that these students attain comes from having their own "cheerleader" who is able to offer praise and encouragement as the children discover new words, find new ways to memorize words and build their ability to translate words into sentences and comprehend meaning in stories, Benson said.
Every day, Benson stays busy working with her own group of students, as well as troubleshooting with tutors so they and their students do not become discouraged when they hit an obstacle.
One recent afternoon, Benson incorporated into her lesson a timed exercise.
She placed a stack of laminated sight words into a canvas bag. She and her third-grade student took turns reading them aloud. This time, Benson was able to identify the most words, but her student was not far behind.
"You've been practicing. That's awesome," Benson said to the brown-haired girl who said she loves that she now can read the horse books her family bought her for Christmas.
"We're continually after growth," Benson said.
Tutor Lori Decker said she finds this program to be "incredibly rewarding" because students witness their own progress through what is a research-based instruction with measurable results. She particularly appreciates the district's willingness to rely on tutors at a time when education is often stymied due to lack of resources for paid personnel.
"I absolutely love being part of this program," said Decker, a former school district finance officer. "I care deeply about all the students I have worked with. They all face challenges in different areas and I think the one-on-one connection is a powerful link to school for many of them."
In the not-too-distant past, Benson said children were allowed to think they were incompetent if they struggled to read, rather than be seen as someone with a brain connection issue that impeded their ability to read without interventions.
District Superintendent Joe Howard, whose mother, Jan, is a tutor, is a program advocate.
"There are lots of ways to address dyslexia and reading disabilities, to look at individualized teaching and differentiation," Howard said. "The best thing about this program is that we are using volunteers to expotentially share our teaching knowledge and powers. It's beauty in numbers."
Yet no program succeeds without the commitment of the instructors, he said.
"The key ingredient to this program is Karen Benson," Howard said. "Karen Benson pours her heart and soul, and tons of passion, into identifying students and training these volunteers.
"We have teachers doing this all over the district, but Karen has been the leader. She just does whatever it takes to make this program work. What she does is amazing."
Related Stories
More like this story
SUBMIT FEEDBACK
Click Below to: