Grief, laughter mix in author's book series for 'seasoned women'
What else is there to do in a retirement community but bond with fellow tablemates and solve mysteries?
Joy Johnson has published her eighth book in a series called The BOOB Girls: The Burned Out Old Broads at Table 12. She will be speaking and signing her comedy-mystery books at the Peregrine Book Company at 2 p.m. on Saturday, Jan. 28.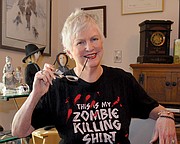 The author, a former journalist from Iowa, is an international speaker on grief who founded two bereavement non-profit organizations in Omaha, one a resource center and the other a center for grieving children. The first book in the series will premier as a musical in Omaha in July, she said. The late comedienne Phyllis Diller endorsed it, saying "The BOOB Girls are the Good Girls."
These novels for seasoned women include:
The BOOB Girls: The Burned Out Old Broads at Table 12.
The BOOB Girls II: Lies, Spies and Cinnamon Rolls.
The BOOB Girls III: Sandhills and Shadows.
The BOOB Girls IV: Murder at Meadow Lakes.
The BOOB Girls V: The Secret of the Red Cane.
The BOOB Girls VI: From the Eye of the Moose.
The BOOB Girls VII: Ten Little Puritans.
The BOOB Girls VIII: Learning to Love Willie.
Johnson invites the public to her presentation. "We're having champagne and popcorn with Goldfish crackers and M&Ms – what the girls snack on when they do movie marathons," she said.
Visit www.theboobgirls.com for more information. The Peregrine Book Company is located at 219A N. Cortez; phone 928-445-9000.
More like this story
SUBMIT FEEDBACK
Click Below to: